Cryptocurrency Adoption Statistics Worldwide in 2023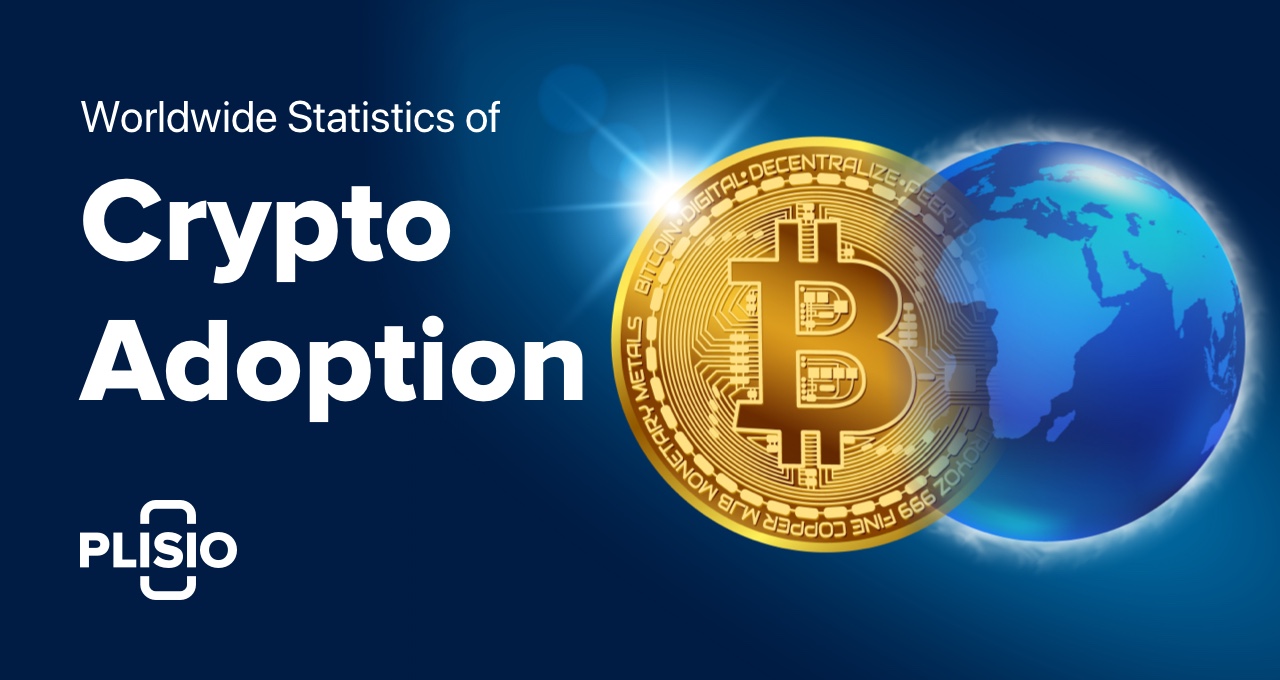 Cryptocurrency adoption has been on the rise globally, with over 420 million crypto users worldwide and an average global crypto ownership rate of 4.2% indicated in 2023. Crypto adoption goes at a rapid pace, and there are more and more people around the world who use cryptocurrency as payment for goods and services. 
In this article, we will analyze the level of cryptocurrency adoption in early 2023, after a year of run-down market cycle phase during which Bitcoin's price dropped to its lowest levels in the last two years. We will consider the following metrics:
Top countries in crypto ownership
Major brands accepting cryptocurrency
Major exchanges users
Major wallets users
Businesses that accept Bitcoin
Current crypto adoption statistics 
According to recent statistics, 10% of the world's population owns some form of cryptocurrency, representing an 800% growth in the crypto adoption in the past year. In order to keep up with the cryptocurrency distribution patterns, let's take a look at the top 10 countries whose crypto users number peaked over the past year.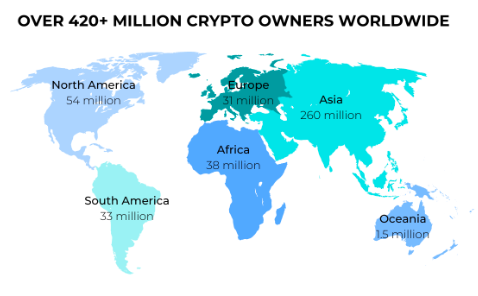 Source: https://triple-a.io/
Nigeria - 19.4% cryptocurrency owners
Despite the unsuccessful experiment of CBDC introduction in Nigeria, crypto platforms report that there are at least 33.4 million Nigerians who are involved in crypto, both officially and unofficially. Even though the Central Bank of Nigeria restricted crypto transactions, it did not affect the overall user growth tendency. 
 
India – 15% cryptocurrency owners
With 115 million cryptocurrency holders, India has one of the most prominent potential for crypto adoption. Just as in Nigeria's case, the government's negative attitude doesn't affect the rapid growth of crypto users. 
USA – 8.3% cryptocurrency owners
Around 27 millions of Americans are cryptocurrency holders, which is 8.3% of the overall country population. Bitcoin is the most popular cryptocurrency in the US, spiked up 16.7% only over 2021. 
Vietnam – 6% cryptocurrency owners
According to Triple A's research, 6 million Vietnamese possess crypto assets. Vietnamese have their own sentiment towards cryptocurrency and are expected to increase the number of crypto users greatly until the end of 2023. 
Pakistan – 4.1% cryptocurrency owners
Pakistan rounds out the top five countries with the highest crypto holder percentage, which is 9 million Pakistanis and 4.1% of the country's population. KuCoin, one of the largest crypto exchanges, claimed that the crypto population of Pakistan is largely dominated by 18 to 60-year-olds.
Major brands accepting crypto
Businesses and corporations are quickly adopting cryptocurrencies as a form of payment for their goods and services. According to a 2022 survey conducted by Deloitte, 75% of retailers have plans to start accepting cryptocurrencies over the next two years. 
Here's a list of global companies that accept Bitcoin, Bitcoin Cash, Ethereum, Litecoin, or Dogecoin directly or through third-party partner services:
AMC - Movie tickets
AT&T - Online bills
CheapAir - Flight tickets and hotels
Dish - Online bills 
ExpressVPN – Payment for subscription
Microsoft - Microsoft Store purchases 
Newegg.com - Website purchases
Overstock.com - Goods purchased on Overtock.com
PayPal – Checkout with cryptocurrency 
Rakuten – Payment for goods and services
Starbucks - Coffee or anything else in the store
Tesla - Tesla online shop purchases
Time Magazine - Time Magazine subscription
Twitch - Buy Twitch "bits"
Top exchanges users
In this paragraph we examine the increase in user base of major cryptocurrency exchanges throughout 2022. This metric is critical for evaluating the level of Bitcoin adoption since most individuals' first step into the crypto world involves purchasing an initial amount on an online exchange platform.
The 2022 year-end reports of major global exchanges have recently been released, providing relevant information on their user base growth. Let's take a look:
Coinbase had 73 million verified users in December 2021, which increased by 48% to 108 million in the following twelve months. As of now, Coinbase is the world's second-largest crypto exchange in terms of user base, with a daily trading volume of up to $2.1 billion.
According to Binance's CEO, the platform reached 120 million users by 2022, which 4 times exceeded its user base compared to 2021 reports. Binance has a daily trading volume of over $20.1 billion, making it the largest cryptocurrency exchange in the world.
Crypto.com saw a seven-fold growth in its user base from February 2021 to December 2022, with 70 million individuals using the platform. It gained 20 million users between May 2022 and December 2022 alone. Crypto.com is currently the 40th largest exchange globally by trading volume, with $392 million in daily trades.
KuCoin's user base almost tripled from 10 million to 27 million between December 2021 and December 2022. With a daily trading volume of $699 million, KuCoin is currently the 27th largest exchange globally by trading volume.
Bitget's user base quadrupled from 2 million to 8 million between March 2022 and January 2023. Bitget is the world's 29th largest exchange by trading volume, with over $641 million in daily trades. 
A cryptocurrency exchange is just a way of trading cryptocurrency assets. In order to get involved in the cryptocurrency market and conduct regular cryptocurrency transactions, small and medium-sized businesses require a cryptocurrency payment gateway. These gateways enable merchants to accept cryptocurrency payments directly from customers and provide a range of helpful tools to manage transactions and track income flow more efficiently.
An excellent example of a cryptocurrency payment gateway is Plisio, which offers various business tools such as accounting and mass payouts at a remarkably low fee of only 0.5%. This is significantly lower than the 1-2% fee charged by competitors. Plisio is a cost-effective solution for small business owners seeking to expand their reach and increase revenue. It supports more than 18 cryptocurrencies and 10 e-commerce plugins, making it a versatile and practical platform for businesses of all sizes.
Businesses that accept crypto
Although Bitcoin is notorious for its volatility, its role in today's market is increasing. Therefore, it is essential to understand how the cryptocurrency is impacting the business world, as the digital market is continually evolving, and businesses will need to adapt to Bitcoin's rising popularity in order to increase their client base.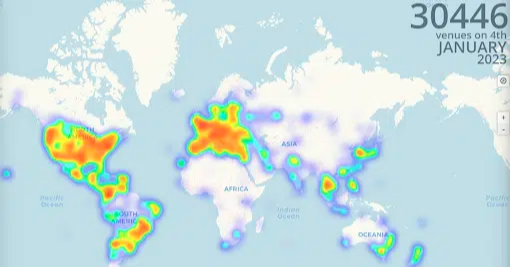 Source: https://en.cryptonomist.ch/
There are currently over 15,000 businesses worldwide that accept Bitcoin or offer Bitcoin ATMs, according to coinmap.org. This indicates that Bitcoin is becoming more mainstream, and businesses are recognizing its importance as a payment option. 
In the US alone, there are around 2,352 businesses that accept Bitcoin, Bitcoin Cash, Ethereum, Litecoin, or Dogecoin payments. It's worth noting that this figure excludes Bitcoin ATMs, which are also widely available across the country. With the growing number of businesses accepting Bitcoin, it's clear that the cryptocurrency is on its way to mass adoption and  is going to play a crucial role in the business world.
How to start accepting crypto
If you decide to grow your business by adding a cryptocurrency payment option to your website, the Plisio cryptocurrency payment gateway will be a great start. Not only will you find the widest range of accepted cryptocurrencies and lowest service fees, but also a variety of tools that greatly expand your business capabilities, such as bookkeeping, mass payouts, invoicing and ready-made customizable Donation Page. You will also find a lot of helpful guides on API integration, tool usage and plugin setup. Among other Plisio benefits are:
Free-of-charge registration and setup
24/7 Live Chat Support
Automated mass payouts
Enhanced privacy and security
Multi-currency account
Trending integrations
Start working with cryptocurrency today and you will see a difference in no time!
Please note that Plisio also offers you:
Create Crypto Invoices in 2 Clicks and Accept Crypto Donations
12 integrations
6 libraries for the most popular programming languages
19 cryptocurrencies and 12 blockchains