How Set Up Crypto Payments on Blesta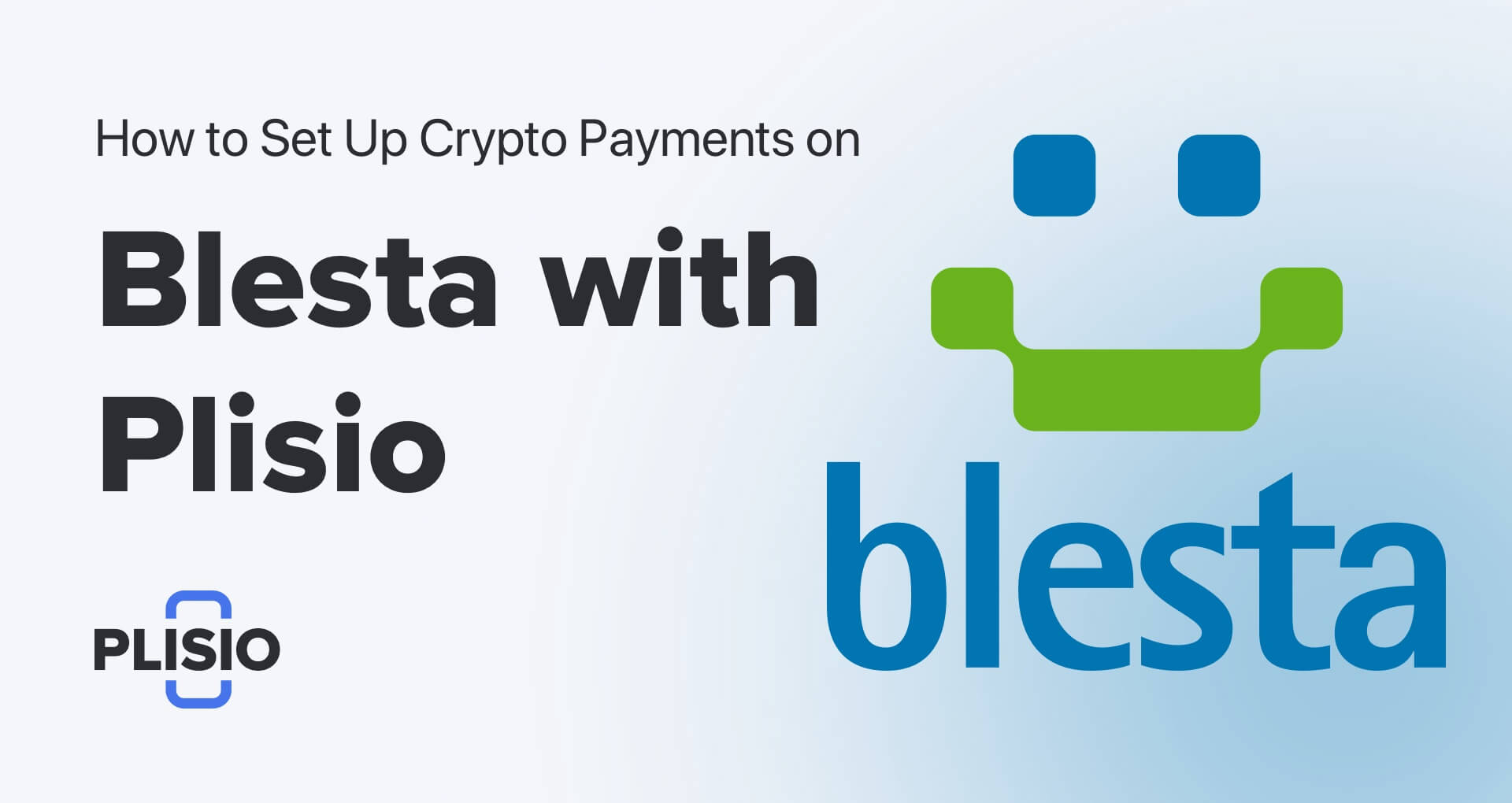 Plisio is a cryptocurrency payment gateway that aims to make crypto payments easier and more accessible for online merchants worldwide. With Plisio, businesses can integrate crypto payments seamlessly into their websites and start accepting a wide range of 18+ supported cryptocurrencies right away, with no complicated integration process required. 
Top Features of the Plisio platform:
Diverse Cryptocurrency Support: Plisio supports a broad variety of cryptocurrencies, including Bitcoin (BTC), Ethereum (ETH), Litecoin (LTC), Tether (USDT) as well as many other altcoins with promising potential.
User-Friendly Integration: Plisio offers user-friendly e-commerce plugins for popular platforms such as Blesta, WHMCS, WooCommerce, Magento, and many more. 
Low Transaction Fees: Traditional payment methods often suggest high transaction fees, significantly cutting merchants' profits. With Plisio, merchants pay only the modest fee of 0.5%, which is the lowest on the market. 
Useful Business Tools: Plisio offers plenty of useful tools to grow an online business. Merchants can set up mass payouts for their stuff, build their own customizable invoices and do accounting of their cryptocurrency revenue. 
In this article, we will find out how to accept crypto through the Blesta Billing platform plugin using the Plisio cryptocurrency payment gateway. 
What is Blesta?
Blesta is a billing and client management platform, specifically designed to cater to web hosting providers, developers, and other service-based businesses. Its software solution streamlines and enhances various aspects of business operations, including billing, invoicing, customer support, and general administrative tasks related to their services.
How to set up cryptocurrency payments via the Blesta e-commerce extension? This is where Plisio will come quite in handy. We can help you use all the available Blesta features for your business and accept payments in any cryptocurrency supported by the Plisio cryptocurrency gateway. 
Here are the Blesta plugin features offered by Plisio:
Full Automation: The Plisio payment gateway operates seamlessly with full automation – simply set the extension up and let it handle the rest. You can check on your payments status effortlessly as all the payments are fully automated.
Multi Crypto Support: Your customers can conveniently make payments using various cryptocurrencies, including Bitcoin, Litecoin, Ether, Dash, Monero, USDT and many other.
Enhanced Flexibility: You can set your prices in your preferred fiat currency, while the payment amount is calculated in cryptocurrency, using real-time exchange rates.
Customizable Invoices: Additionally, you can set up the invoice amount and expiration time, giving your customers the preferred timeframe to complete the payment. Refunds for unsuccessful payments are handled directly from the invoice.
Underpayments Handling: The Plisio gateway also takes care of slight underpayments, ensuring a smooth payment experience for your customers.
No Chargebacks: When you're paid in cryptocurrency, the blockchain network eliminates any chargeback, which means that once a transaction is confirmed on the blockchain, it cannot be reversed or modified by anyone, not even the sender or the receiver.
How do cryptocurrency payments through Blesta extension work? Let's take a look at the example:
Imagine a customer visits your online store and decides to purchase an item priced at 150 dollars. They choose to pay with Bitcoin or any other crypto-assets offered by the Plisio payment option;
Then, upon selection, an order is created on your Blesta web store, and the customer is directed to the Plisio payment window;
The invoice's price is dynamically calculated in real-time based on the current market rate, for instance, 0.0049 BTC;
Using their Bitcoin wallet, the customer completes the payment, receives immediate confirmation, and is then redirected back to your store.
After the invoice is successfully paid, you, as the merchant, receive a notification and are credited with 149 dollars (minus a 0.5%  fee), or 0.0049 BTC. This payment is guaranteed and cannot be charged back.
There is no KYC procedure when creating a free account on Plisio, so you can maintain full anonymity using the Plisio service. 
How to set up a Plisio gateway plugin for your Blesta website?
Download the Plisio's Blesta Plugin
Upload the source code to a /components/gateways/nonmerchant/plisio/ directory within your Blesta installation path.
Log in to your Blesta account and navigate to Settings > Payment Gateways.
Find the Plisio gateway and click the "Install" button to install it.
Click on the "Installed" tab and then on the "Manage" button next to the Plisio Payment Gateway. Paste the API Secret key you received after registering your store and select the cryptocurrencies you need.
Click "Update Settings" button and you're all set!
The best place where you can find the widest range of e-commerce plugins is definitely Plisio cryptocurrency payment gateway. Plisio offers 13+ e-commerce solutions to choose from with a ready-made cryptocurrency payment option. Plisio is the platform that offers a free crypto wallet and a variety of business tool to help your e-commerce grow and prosper. 
If you run your shop on a great and efficient e-commerce extensions like Blesta, Magento, WooCommerce, or ZenCart and combine it with a business-oriented crypto payment gateway, you will boost your online store sales in no time. On Plisio, you will find the best use of up-to-date e-commerce plugins, crypto donations, accounting and invoice customization features, all for the lowest fee among completion of just 0.5%. 
Please note that Plisio also offers you:
Create Crypto Invoices in 2 Clicks and Accept Crypto Donations
12 integrations
6 libraries for the most popular programming languages
19 cryptocurrencies and 12 blockchains