How to grow your business with bitcoin: 6 easy ways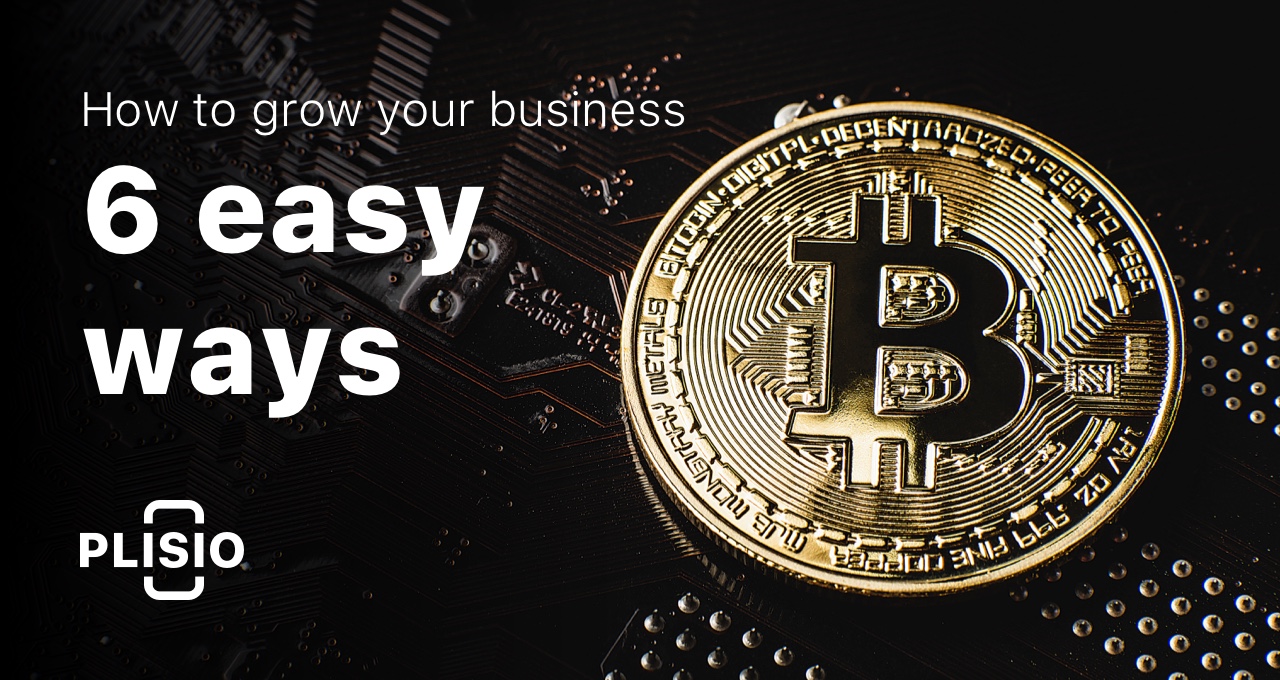 Bitcoin is a ground-breaking technology that is gaining interest among people who is interested in boosting their business. It has been attracting different financial institutions and therefore it isn't clear yet whether they see it as an ally or a foe in the big game on the market. In the time of crisis, it can be very dangerous to trust something you don't know. For this occasion, we've prepared an article in our blog where we tell you why cryptocurrency is a safe haven during the time of the world's economic instabilities.
As a business owner, you should be very careful with your finances and make accurate decisions about trusting a notorious digital currency. At the same time, if you want to stay up-to-date and embrace all features that may help your business grow. If it all sounds too complicated for you, we want to reassure you - you don't have to fully understand its nature to gain the benefits.
In this article we're going to tell you about 6 ways of boosting your business with cryptocurrencies providing all the subtleties of these methods.
1. Buy and trade crypto
You can track the cryptocurrency exchange rates and trade or buy it when the time is right. It's almost like a traditional stock market trading that can fund your business growth. There are a lot of different platforms making this process much more accessible for users that are not so familiar with crypto. You can also track forums where you can learn about cryptocurrency investment strategy and management. Be your own business sponsor!
2. Protection from frauds
The Blockchain network is very complex and transactions go through a confirmation process. Besides, you cannot simply spend more than you own. You can store crypto in a digital wallet and offer this feature to your customers. It's very safe and secure and that is why attracts more people to your business.
3. Mining
There is one more way to grow your business with bitcoin or any other crypto – add a mining to your service roster. Even though it may require a certain start capital to begin with, in the future it will pay off. On top of that, there are certain rewards for being involved in the system. You can make your mining more competitive and seize all the lucrative opportunities.
4. Smart contracts
Contracts are pretty normal in the business world. You meet with your clients and discuss all the details face-to-face. If someone didn't fulfill their own part of the deal, another party can sue them. It can become much easier with smart contracts. It is a kind of agreement that is signed digitally without the need of the lawyer. This kind of contract is closely monitored and cannot be canceled or altered. Once one party delivered, the cryptocurrency is exchanged. It's a very safe alternative to the traditional route.
5. Track your inventory
Bitcoin and Blockchain make it very easy to track or record your inventories. You can always find your records of buying, shipping or selling. Once the transaction is completed, you cannot alter or delete anything from it. You won't longer need expensive software for tracing your inventory records. Besides, this way is much simpler for a common user.
6. Stay ahead of competitors
Crypto is not yet commonly accepted among businesses on the internet. If you start using it now, it will attract a great deal of new customers as you will have an edge over your competitors. Appearing as an innovator who wants to stay up-to-date will make you a good reputation. Being versatile is a key to becoming the first player on the market.
As you can see, cryptocurrency is a great tool in growing your business without any effort. In case you've missed, we've already told in our blog why your business should start accepting crypto. You can read about it here. Be innovative and boost your business while you still can!
If you want to accept crypto and still don't know how to do it, Plisio offers you a simple payment gateway integration with a step-by-step guide. You can choose any plugin you want and connect your business to crypto in a matter of a few clicks. If you have any questions regarding the integration process, our support team is always glad to assist you. 
Please note that Plisio also offers you:
Create Crypto Invoices in 2 Clicks and Accept Crypto Donations
12 integrations
6 libraries for the most popular programming languages
19 cryptocurrencies and 12 blockchains