9 Reasons Why You Should Accept Crypto-Payments on Your Website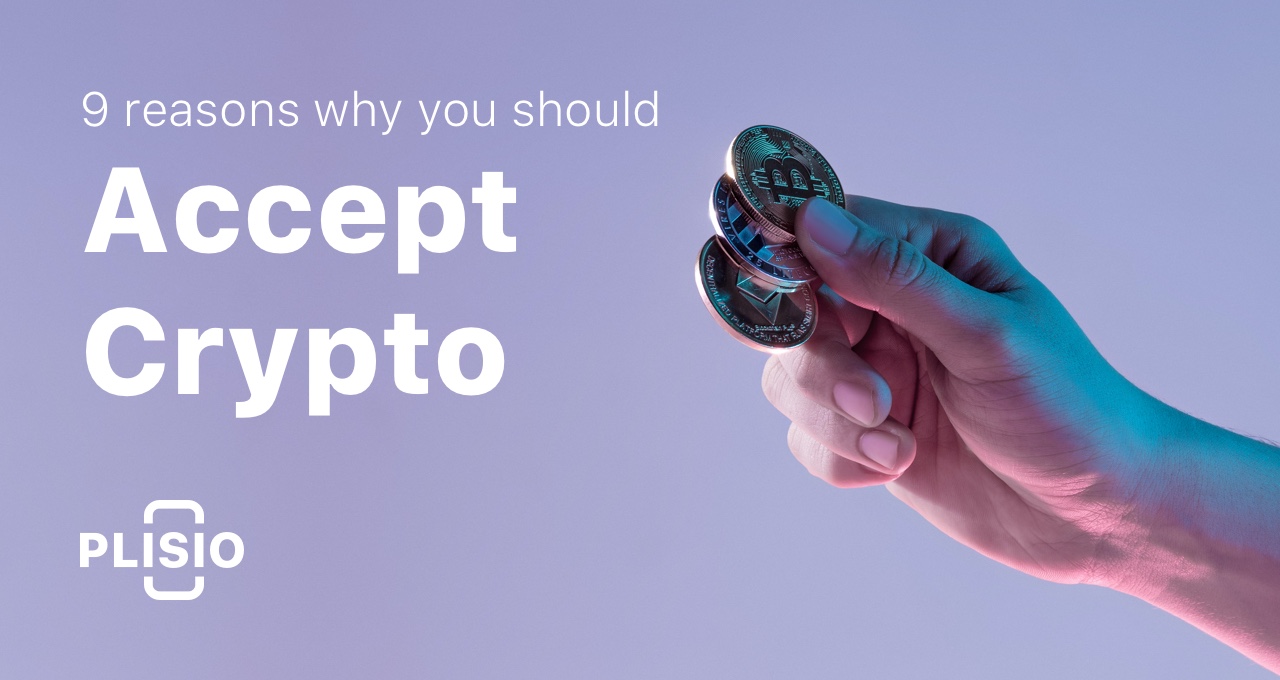 We should admit it that cryptocurrency has become very popular nowadays. There still are people who reject it in any way justifying it on weak credibility. Actually, we don't agree with them and have summarized the 9 main reasons why you really should give it a try and boost your business while you still can. 
1. Going Worldwide 
The best you can do for your online store is to introduce it to new customers. Expanding your client base by going international is a perfect opportunity to unlock the full potential of your business and sell your product anywhere. This currency is truly universal and available for anyone. Besides, if you start accepting Bitcoin, it will solve such problems as high cross-border fees or exchange rates. 
2. A $300 billion Market with Millions of New Customers
Expanding your client base does not only solve fee and exchange rate problems, but also opens your business up to new customers. Being part of the market with $300 billion turnover is the right path to increase your income tremendously.  On top of that, accepting crypto-payments attracts customers who wouldn't otherwise do business with you if your payment methods lacked this option. 
3. Lower Fees
Lots of business have to deal with taxes and fees all the time while providing their goods. Sometimes there are several layers of fees – a percentage from sales plus percentage for maintaining a merchant account. It doesn't apply for Bitcoin payments though; there is only one and pretty low fee. According to our calculations, you will experience a fee of 1%. Reassuring, isn't it? There is even more to it – accepting payments in bitcoin directly will charge you no fee at all. 
4. Say Goodbye to Payment Delay 
Usually, credit card payments take up to several days before you receive funds as these payments undergo bank processing. Bitcoin transactions, in turn, are instant. They get to be verified by a network of miners, which is much faster in comparison with any bank. The network is always online and once the transaction is approved, bitcoins go to your wallet. 
5. The Easiest Integration Ever
The first thing you need to think about when implementing crypto-payments on your website is how to integrate it. It isn't any harder that connecting PayPal or Visa payments; you can do it in a matter of minutes with any plugin you choose. In case your website doesn't run on WordPress, you can always find an integration instruction to the plugin you've chosen. Besides, these plugins are fully customizable and you can set it up however you like. 
6. No Chargeback
Chargeback is one of the main reasons business face losses. Due to identity fraud, bank cancel suspicious transactions and never reimburse the sellers. Cryptocurrency offers a brand-new solution – financial anonymity. Buyers no longer need to provide any proof of identity or crucial payment information. Therefore, there is no need to steal anyone's identity pursuing anonymity. On top of that, the Blockchain network doesn't allow any chargeback. Once you got your money, it is yours. 
7. It Is Secure 
There are even more concerns for your business beyond identity theft. We're talking about security and anonymity of a payment method. Cryptocurrency offers both. As we've said in the paragraph above, the Blockchain system provides bitcoin with cryptography security that guarantees the protection of your funds and data. Being anonymous spares you from providing any documents or proof of identity as with fiat money. It means that dealing with crypto both saves you time and protects your data from frauds. 
8. Great Investment Opportunity
Any world currency is tied to a country and suffer from all political instabilities. Bitcoin, however, imposes no risks of inflation. On the contrary, world governments and biggest corporations invest in this cryptocurrency. Bitcoin was also created to be finite, which rules out the chance of any surplus currencies appearance and thus calling for deflation. Why not grow your business when there is such a perfect opportunity? You can either invest in other cryptocurrencies or keep your coins and wait until the price will skyrocket. The choice is yours. 
9. Open to Competition
Accepting crypto-payments in your online store makes it very up to date. You will attract more attention of the younger generation and will be as technological as any big players on the market. It is the easy way to promote your business and attract more funds. Who knows what happens next? Maybe it will be your own brand that will disrupt the market!
Why not give it a try right now?
There are no strings attached. You can easily add and remove the cryptocurrency payment option whenever you want. You can start with Plisio. It's a great opportunity to start accepting crypto-payments as Plisio offers you a range of the most popular cryptocurrencies, 0.5% fee and the easiest integration with zero knowledge required. 
If you will need any help, our support team is always glad to assist you. Here is our integration guide - https://plisio.net/faq/how-to-connect-the-api 
Please note that Plisio also offers you:
Create Crypto Invoices in 2 Clicks and Accept Crypto Donations
12 integrations
6 libraries for the most popular programming languages
19 cryptocurrencies and 12 blockchains