How to accept crypto donations by Email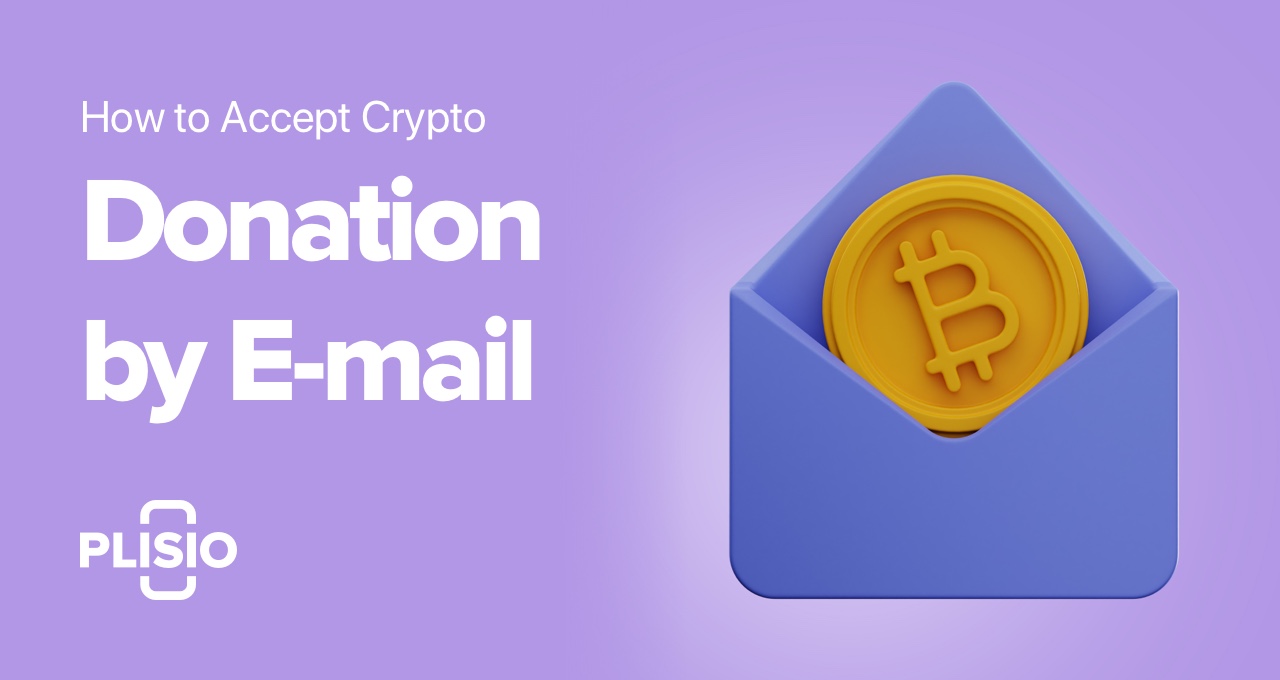 In this article, we will discuss all advantages of accepting cryptocurrency donations by Email and also show how to integrate Plisio to Email for you to be able to easily accept donations in Bitcoin, Litecoin, Ethereum, Dash or any other crypto in just a few clicks.
Why accept cryptocurrency donations?
Reduced risks. Such crypto as Bitcoin cannot be refunded. It means no refund fees, fines, suspended accounts or charity fraud schemes.
Larger donations. The market analytics shows that people who have crypto assets are prone to spend more due to the ability to pay with crypto directly (In comparison to paying with cash or credit/debit card)
A bigger audience. Such services as PayPal are not available in many countries, as well as there are people who cannot open a bank account or use credit/debit cards to send cash donations.
Less competition. There are around 500 million crypto wallets created, and this number is growing every day. This only proves that there are more people willing to spend crypto than just a huge number of online stores or people who integrated crypto payments just as an alternative payment method.
What are the benefits of using Plisio for crypto donations?
All your donations will go directly from the donor's wallet to yours. There will be no intermediaries monitoring your assets.
Usability. It is as simple as adding all wallet addresses of crypto you want to accept, create a donations link and insert it to your Email Done!
User-friendly interface. We will provide your clients with a simple donation form that will allow them to choose any crypto they wish to donate, as well as with the real-time exchange rate conversion so they could calculate the exact donation amount. Your donors will be offered several efficient payment methods such as a one-click payment for compatible wallets, QR codes for mobile wallets and the option to copy and paste transactions from the crypto exchange directly. Your donors will also be able to leave you a thank-you message before sending a donation.
Now that we've discussed all the Plisio platform and crypto donations advantages, let's get to the integration process.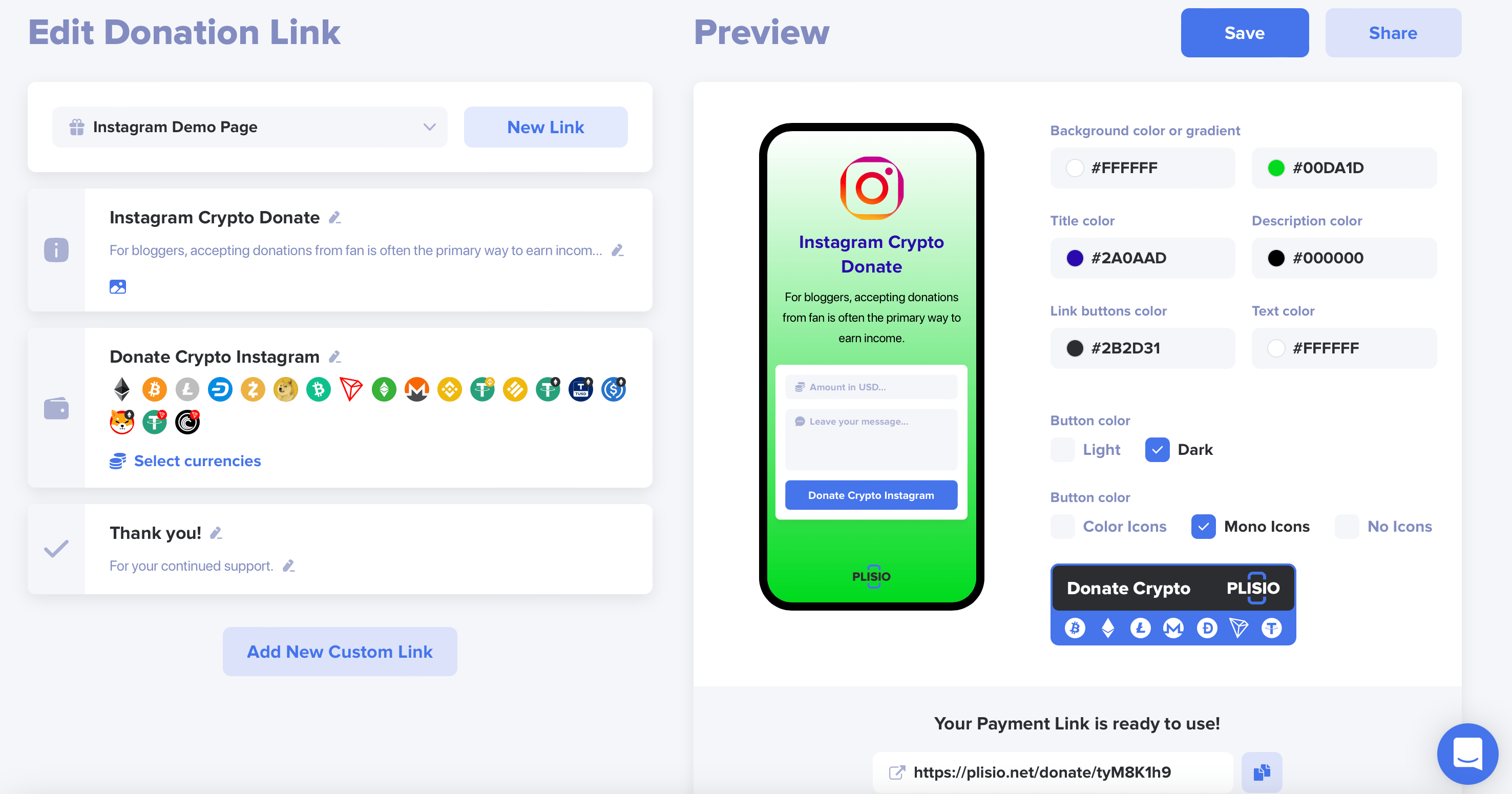 Setting a Plisio crypto donation button.  
Step 1: Sign up on Plisio and set up your Donation page. 
Go to your Plisio Dashboard (FAQ).
Click on the "Solutions" section. You will find your Donation page menu there.
Create a Donation page with your data. (For example, a unique username, logo or a profile picture to help your audience recognise you).
Select cryptocurrencies you wish to accept donations in. If there are any cryptocurrencies you don't wish to accept, just don't add them.
You can also add links to your web resources or social media profiles. If needed, you can add new links or remove the additional link fields. This field is optional.
Click on "Save" — now you have a link to your unique Cryptocurrency Donation page.
Step 2: Integrate your donation link to your Email. 
Compose your email
Import our button image to your email
Highlight your button and click on Insert Link to insert your payment link
or import you qr code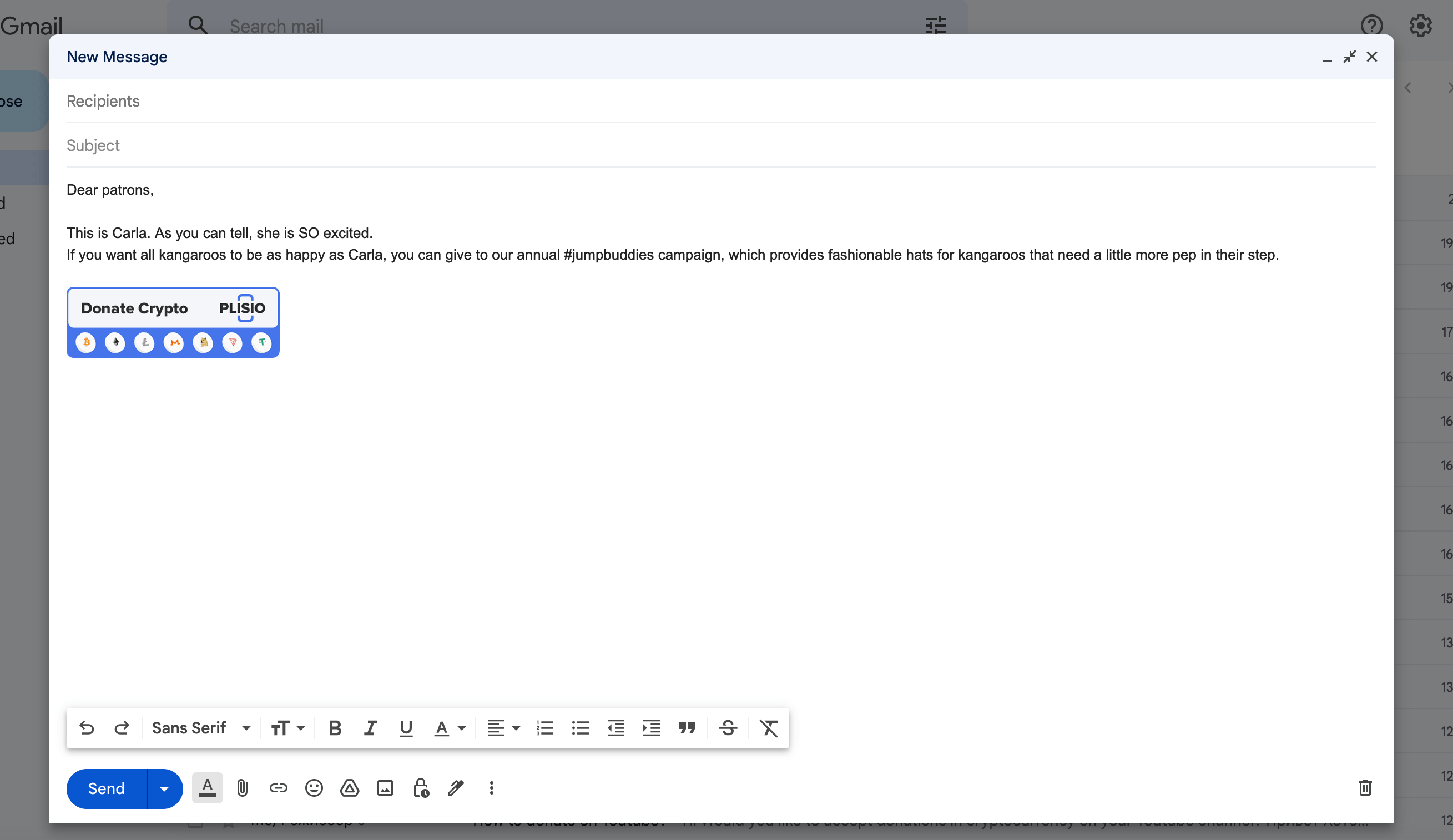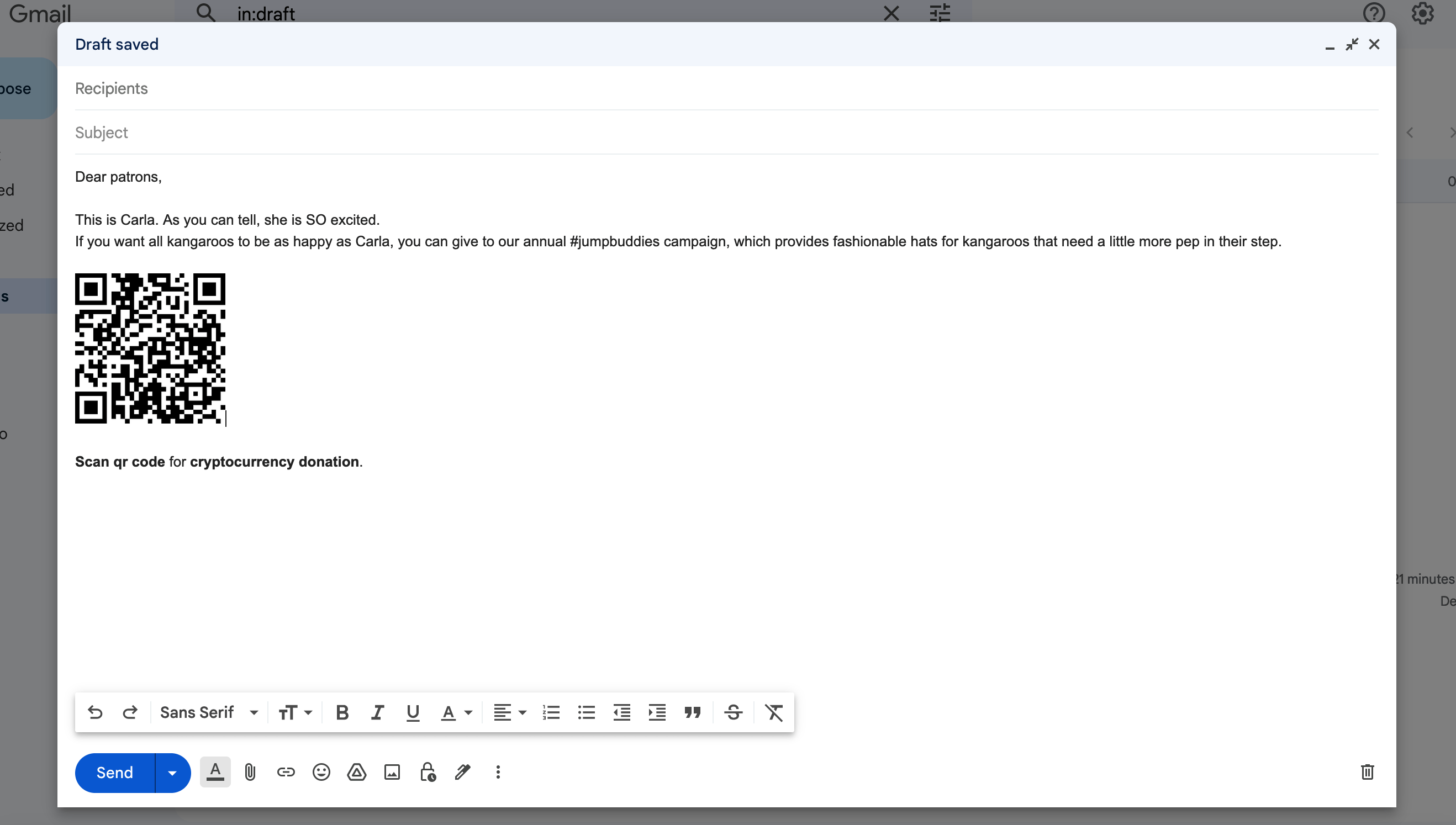 You've just successfully added your Plisio Donation link to Email!
How to ask for a donation in an email
Here goes: Write a killer subject line or nothing else matters. Personalize the opening, ask for the donation early, and make the donation experience intuitive and quick. Weave a great story, say thank you in advance, and add some real-life images to bring it all home.
And there you have it! How to ask for a donation via email. Email is an excellent medium for fundraising. You have space, you have time, it's cost-effective (AKA free), you can include images, and there's no postage. (But P.S., we love the USPS, so send mail!). If you're still wondering how to ask for a donation in an email, let us break it down for you.
1. It all starts with the subject line.
We mentioned this before, but it bears repeating: your subject line is your first impression, and you want to make it good. You can write the most exquisitely crafted email ever, but if the subject line is "hi i'm a charity and need $$$$. THX!!!!" it will go forever unread. You better work that subject line, nonprofiteer.
2. Personalize it.
The sharks in Finding Nemo knew that fish are friends, not food; you know that donors are people, not numbers. Personalize your donation emails as much as possible, using names and past donation information (psst, this is where segmenting your donor data makes a difference). BTW, with Funraise you can automate your emails AND personalize them—check and mate!
3. Get right to the point.
Your email ask should be clear, genuine, and succinct, which means you want to ask for that donation early on. Don't make your readers wade through paragraphs of text, wondering aloud what the heck this email is all about. Let them know exactly why you're writing and how they can take action to make a difference.
4. Make the giving easy.
Make sure that gorgeous donate button is front and center so that no one has to search for a way to donate. You can also link to your donation page as well as provide a number and address for offline donations—and every one of these giving options should take a mere two seconds to find.
5. Use words and images.
Unlike texts, emails give you the space to tell a story. So, tell a really good one. Highlight your mission, include real photos, and emphasize how your reader can be a part of this meticulously crafted tale—giving it a very happy ending indeed.
We recommend you test your Donation button by making a test donation to make sure that your Donation link functions properly.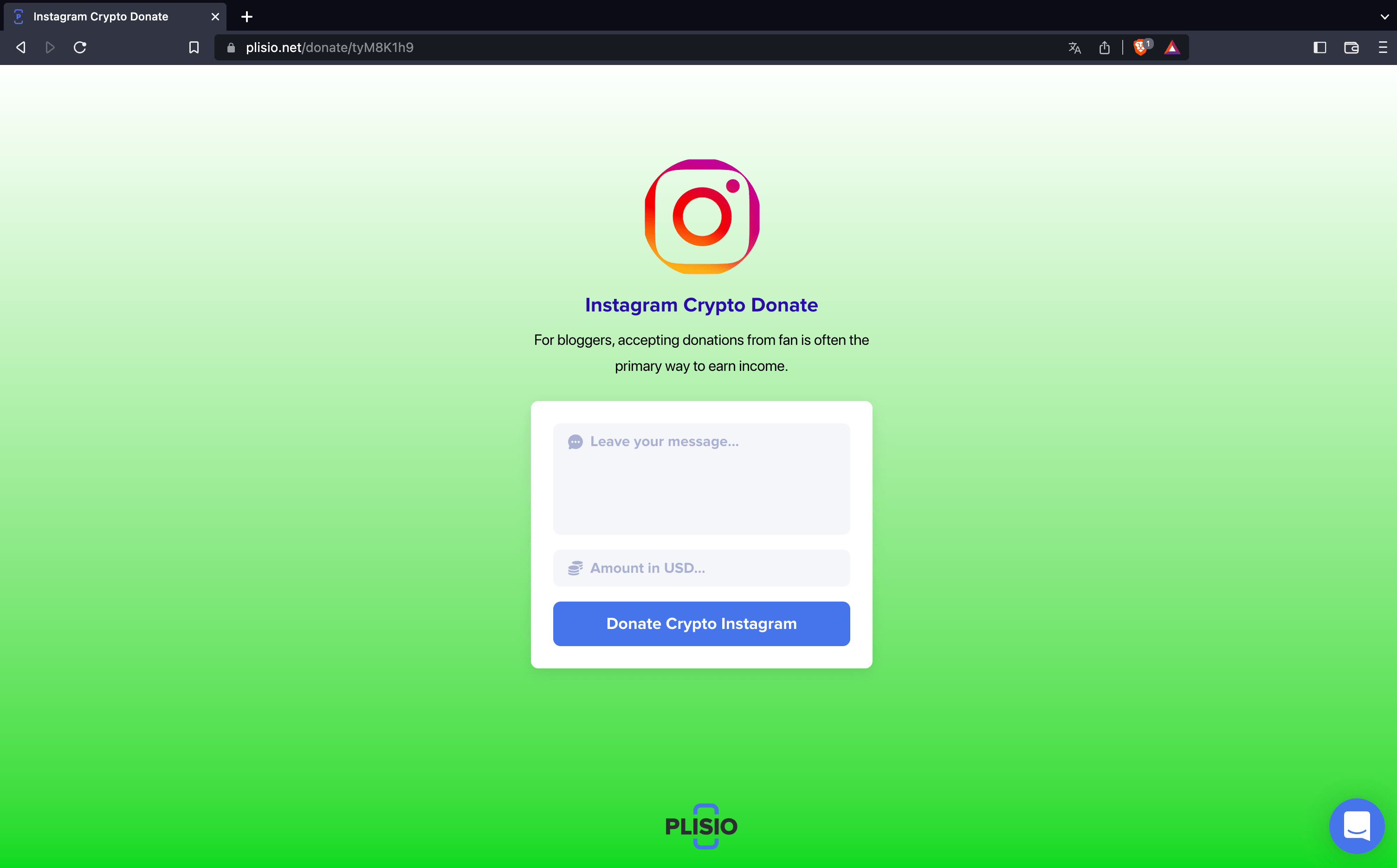 If you have any problems, don't be shy and contact the Plisio Support Team.
Please note that Plisio also offers you:
Create Crypto Invoices in 2 Clicks and Accept Crypto Donations
12 integrations
6 libraries for the most popular programming languages
19 cryptocurrencies and 12 blockchains