Best Self-Hosted E-Commerce Solutions for Your Online Business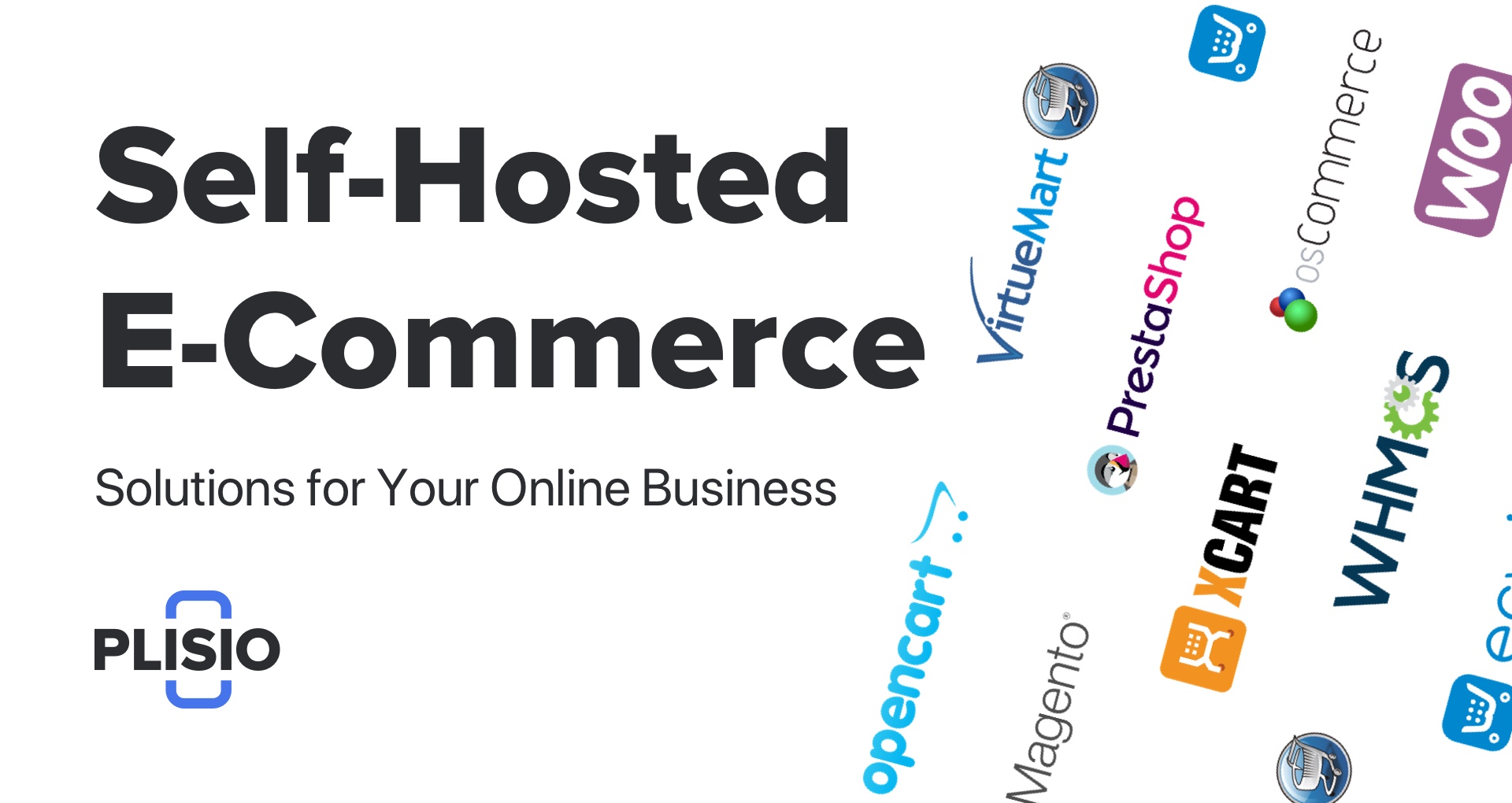 Accepting cryptocurrency payments is a great thing for your business – simplified international remittances, low transaction fees, more potential clients.  However, to start receiving payments in cryptocurrency for your business, you need to set an e-commerce plugin first. Some of the cryptocurrency payment gateways take advantage of their users not offering them much of a choice with the available plugin options. Today, we will discuss the best self-hosted e-commerce plugins for your online store and a place where you can find them all.
Plisio cryptocurrency payment gateway, for instance, has 11 e-commerce plugins to choose from, let alone plenty of features to grow your e-commerce and useful guides for novice cryptocurrency investors. 
Let's start with why you need the plugin for your platform in the first place. There may be multiple reasons: you want to either control every aspect of your store, or, forget about monthly fees and commissions while being able to make changes and updates to your payment system whenever you want.
In that case, you would want a popular time-tested plugin with many developer's resources devoted to it. The less popular is the plugin, the less users it has and therefore it might not have useful features and good program security.
In this article, you can find information about the most common self-hosted e-commerce plugins for your business that can be easily compatible with the cryptocurrency payment option.  
Magento
Magento is a great user-friendly open-source e-commerce plugin. It has two solutions – Community edition and Enterprise edition. The plugin Community edition is free to download, but you will have to pay for the web development and web hosting. The second solution is designed for large-scale merchants and starts with $15,000 a year.
Even Magento CE is not an easy solution for a beginner, as it has many different options to choose from – you might need a team of developers to learn what is what at first. What makes Magento so widely accepted is its security, powerful search engine and marketing tools.
Why you should consider Magento as your e-commerce plugin:
Powerful search engine
Marketing tools that can help you advertise your website
Flawless customer support and responsive support team
Has CEO and admin interface in EE
PrestaShop
PrestaShop is an open-source platform that comes with plenty of useful features and tools, but still requires a lot of coding knowledge. PrestaShop is also free of charge, but doesn't include hosting options so this is something you will have to pay for yourself. The plugin has more than 1500 modules and 16 payment gateways, crypto modules included.
PrestaShop is a great choice for those entrepreneurs who are just getting started as it is free to use and has advanced admin and CEO features. Despite the complicated setup, once the plugin is installed, it is extremely easy to use.
Why you should consider PrestaShop as your e-commerce plugin:
A customizable, built-in shopping cart
Great customer support
Though hard to install, very easy to use
Free to use and good for beginner entrepreneurs
WooCommerce
WooCommerce is an open source WordPress plugin. If you're good at WordPress, WooCommerce should not be hard to install as it works just as any other WP plugin. WooCommerce product pages have good customization options as they can be categorized, tagged and given various attributes. WooCommerce has plenty of WooThemes FAQs where and clear documentation where all kinds of answers can be found.
WooCommerce supports more than 100 extensions for all kinds of payment processors (cryptocurrency included) and is free to use. It is perfect for those merchants who wish to make their online store customized just for them and their needs and have full control of their website.
Why you should consider WooCommerce as your e-commerce plugin:
Has a built-in website builder
Has a large community and great customer support
Works great with WP
Extremely customizable
OpenCart
Unlike WooCommerce, OpenCart is not easy to set up without code knowledge. This e-commerce platform is written in PHP and free to use, but you will need to pay for hosting and extra extensions.
OpenCart has up to 2000 frontend template options and plenty of add-ons like Google Analytics, Twitter or Facebook integrations. As for payment gateways, OpenCart suggests around 700 of them through extensions. The plugin also has multi-store support, product ratings and reviews, accounting and search engine add-ons.
Even though OpenCart requires technical expertise, there are lots of useful guides online that can help you to set it up in no time.
OpenCart might seem a little slow or outdated at first, but is still a great e-commerce plugin that can help a merchant to set up a perfect online store to suit all their needs.
Why you should consider OpenCart as your e-commerce plugin:
Responsive support team and plenty of useful guides online
Ideal for small and medium-sized businesses
Impressive frontend templates
Can be easily modified
Zen Cart
Zen Cart is a free and open source PHP/MySQL e-commerce plugin. It is globally used by developers and entrepreneurs and claims to be a free e-commerce solution that can be installed and maintained without technical expertise and code knowledge. Zen Cart provides one-click install for their solutions that spares business owners with no IT degree.
Zen Cart offers around 200 free templates with updates and 24/7 support. This e-commerce solution has a lot of products and product attributes, plenty of shipping options and carries, and, what's important, country-based customization. Besides that, it is highly customizable and completely free to use.
Why you should consider Zen Cart as your e-commerce plugin:
Completely free of charge
Open-source modifiable software
Unlimited customization options
One-click installation
If You Also Want to Accept Crypto
The best place where you can find all of the e-commerce plugins is the Plisio cryptocurrency payment gateway. They have 11 e-commerce solutions to choose from with a ready-made cryptocurrency payment option. Plisio is the platform that offers a free crypto wallet and a variety of business tools to help your e-commerce grow and develop. If you run your shop on a great and customizable plugin like Magento, WooCommerce, and Zen Cart and combine it with a business-oriented crypto payment gateway, you will boost your online store in no time. Get the best of two worlds and find the best use for marketing, accounting and customization features you will find on Plisio, with just 0.5% fee.
Please note that Plisio also offers you:
Create Crypto Invoices in 2 Clicks and Accept Crypto Donations
12 integrations
6 libraries for the most popular programming languages
19 cryptocurrencies and 12 blockchains