3 Easy Ways to Invest in Crypto Without Buying It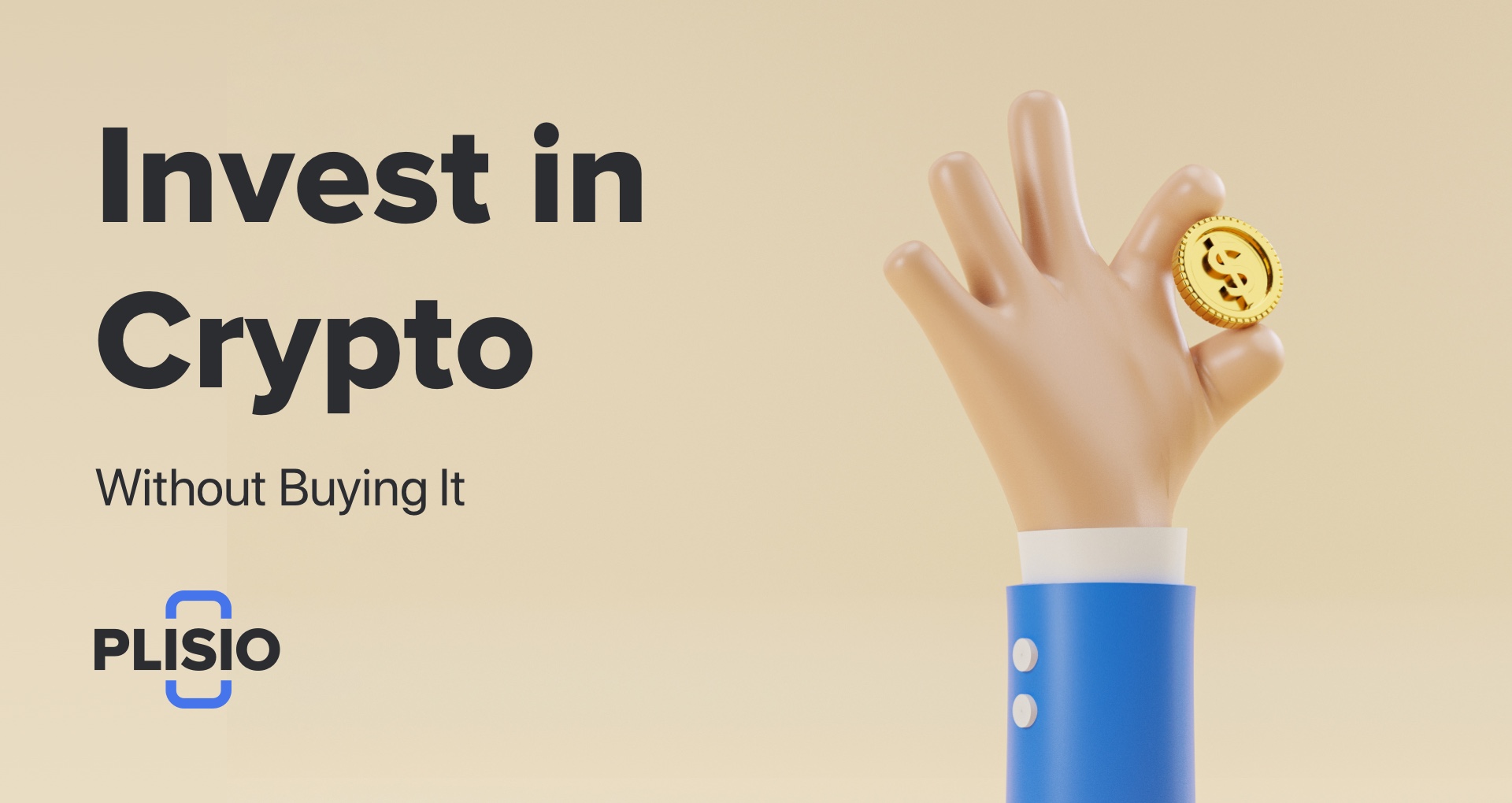 So, you're looking to invest in cryptocurrency, but you either don't know what crypto to choose or just don't wish to risk it with the market behavior? Crypto world has just the solution for you. It is possible to actually invest in crypto without buying it.
Cryptocurrency sure can be too complicated for an inexperienced player. Even experienced investors choose a more cautious approach to it as the market tends to be extremely volatile, making every investment speculative. Luckily, there are ways to "invest" in cryptocurrency, both directly and indirectly. There is a good chance that you've been exposed to cryptocurrency already, you just don't know it yet.
In this article, we will learn how to avoid all the risks associated with crypto investing by simply avoiding buying it directly. Here's how you can do it.
1. Accept cryptocurrency for your business!
In that case, your exposure to crypto is quite significant. There are lots of potential customers who've been engaged with cryptocurrency, which makes it double profitable for you.
Expanding your client base while accepting cryptocurrency does a great work both for your investment portfolio and for the brand identity. You can prove yourself to your loyal clients as an innovative and open-minded business owner who's not afraid of trying new things.
If you decide to accept cryptocurrency for your online store, it can cut you some costs too. Blockchain transactions cost between 0 to 1%, while the average card transaction can charge between 1.5 and 3.5%.
The best way to start accepting cryptocurrency is to use a crypto payment gateway. These have the functionality similar to cryptocurrency wallets, but it's a little more complex. Such services provide a hosted or non-custodial wallet where you can store funds from customer purchases, or you can convert these funds into US dollars and withdraw it to your bank account.
Crypto gateway is a great all-in-one solution for your business. Let's take the Plisio crypto payment gateway. For a mere 0.5% fee, they offer you a free wallet, the API solution for your online store (which is nor hard to integrate at all) and plenty of useful business features such as mass payouts, bookkeeping tools and enhanced anonymity. You can grow your business with cryptocurrency payment options, no matter what kind or size it is.
2. Invest in crypto stocks
This is the most conventional way of investing in cryptocurrency without buying it. You can still benefit from the high asset price and avoid buying a speculative crypto.
Crypto stocks are projects and companies whose products and services are connected to the cryptocurrency industry. For example, such crypto stocks can be payment-processing operators, mining or NFT minting companies or some marketplaces.
Investing in crypto stocks comes with a few benefits:
First of all, it is not complicated at all. You can easily browse available crypto stocks on the market, just as with any other stocks. There is no prior knowledge needed.
Second of all, this is a more secure way of indirect investing in crypto. The blockchain itself is a paramount technology, which is almost impossible to hack, while cryptocurrency exchanges cannot claim the same. So, crypto stock investments are not expected to be stolen away from your portfolio through the night.
And thirdly, companies or projects themselves can have more potential than a separate cryptocurrency.  With stock investment, you can invest in technology or some global cryptocurrency exchange and do some good to the cryptocurrency market. You're not limited in choice and can make your portfolio as diverse as you wish.  
3. Just mine crypto!
Accepting cryptocurrency or investing in stocks is great, but there is an easier way around. You can mine your cryptocurrency yourself!
If you have powerful hardware and not so high electricity prices, you can easily earn cryptocurrency by just mining it. In that case, you're getting it for free, so no strings or portfolio risks attached.
Mining is a process of allocating your computer processing power to validation blockchain transactions, namely you let your hardware participate in the Proof-of-Work consensus mechanism. There are a number of cryptocurrencies operating on it, for instance Bitcoin, Litecoin, DOGE coin, Monero, Bitcoin Cash or Zcash. As a reward for participating in the transaction validation process, you get a small share of minted coins.
What comes to the mining process complexity, you don't need a degree to launch a mining operation, If you just learn the basics on Google and install the necessary software, you're all set and ready to go. It is the easiest and proven passive income generating strategy that exists since the invention of cryptocurrency.
Conclusion
It is okay to be afraid of investing in cryptocurrency directly. The market behavior is most unstable, and it is only fair you would not expose yourself to unwanted risks.
Fortunately, with such abundance of new crypto projects and promising companies, the stock market looks as good as never before. Or, if you're looking for the real crypto asset, you can try and mine it for free.
Accepting cryptocurrency is another winning strategy that can greatly diversify your investment portfolio. Besides, it is a much cheaper alternative to card transactions due to small fees and fast processing. If you're looking to accept cryptocurrency, you can start with the Plisio crypto payment gateway. It has a great support team and useful guides for newcomers. For just 0.5% fee, you can enjoy a variety of useful financial tools for business growth and management. There are 18+ cryptocurrencies to choose from and a free wallet you can use anytime when making a transaction in crypto. Explore the lucrative income opportunity and grow your business in no time. No time to waste!
Please note that Plisio also offers you:
Create Crypto Invoices in 2 Clicks and Accept Crypto Donations
12 integrations
6 libraries for the most popular programming languages
19 cryptocurrencies and 12 blockchains