The Importance of DYOR: Smart Investing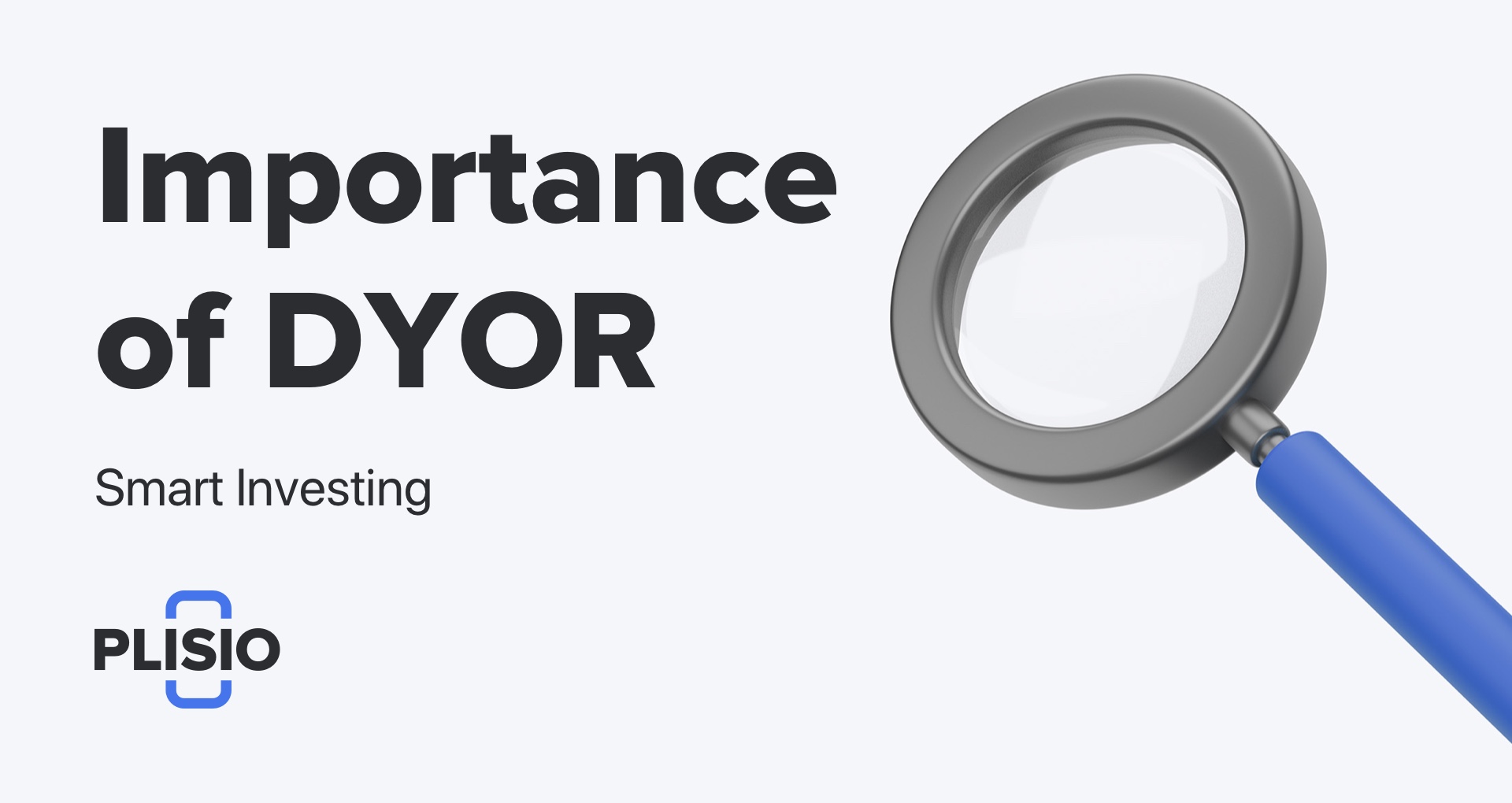 In crypto space, "do your own research" means the world. DYOR. Successful crypto investors all over the globe know the rules on smart investing and why your own research is so important when stumbling across a new intriguing project. To help newcomers understand the basics of a careful approach to crypto investing, we cover the essential aspects of DYOR.
What is DYOR?
Do Your Own Research or DYOR is a popular term among crypto enthusiasts that comprises all the knowledge and decision-making skills when it comes to investing or analyzing some new cryptocurrency projects.
The idea behind DYOR is to reduce risks among crypto space newcomers and encourage them to take the necessary precautions when researching new areas of the market. It is a good habit when exploring reputable cryptocurrency information sources as it helps to evaluate the potential of a crypto platform or project before investing your money in it. Let's check out the most vital rules of DYOR and get a proper understanding of all associated risks.
Cryptocurrency projects do not equal cryptocurrencies
Let's determine the word "project" as some beginner investors often misunderstand it. Crypto projects and cryptocurrencies are not the same. Even Ethereum, which many confuse with cryptocurrency, is actually a cryptocurrency project. In other words, when you buy Ethereum, you acquire a naïve Ethereum cryptocurrency. Cryptocurrency projects usually have cryptocurrencies bound to them, so there comes the next rule – always study the projects of the cryptocurrency of which you're interested in.
A cryptocurrency platform is the place where different services related to cryptocurrencies are provided. Doing your own research should cover such places as well, especially if you're looking to accept cryptocurrency for your business. Let's take the Plisio platform, for instance. They have a wide range of supported cryptocurrencies and tokens, as well as different plans for businesses of all sizes and a free cryptocurrency wallet. The more versatile a platform is, the more experience it has in the cryptocurrency sphere, which means that it deserves a certain amount of trust.
Do FA (Fundamental Analysis)
Fundamental analysis is an important step of DYOR. This assessment strategy is used to identify the true value of a given asset on the market. The fundamental analysis helps to arrive at the conclusion whether a certain project is worth the investor's attention, undervalued or overvalued. Here're the fundamental analysis key points:
Team. To know the project creators is not so vital, but it still could make a difference. Analyzing the project team reputation, professionalism and educational history would not hurt, especially if the team was associated with some dishonorable activity in the past.
Whitepaper. Whitepaper is almost as the project "passport" – it is a project's concept paper where the founders identify the problem and the project's solution of it and what role does the given cryptocurrency play in the project's life.   
Tokenomics. Tokenomics is all about the project's numbers – they could give an investor the world of information to work with. The tokenomics consists of the circulating supply, total supply and maximum supply. Here's what you need to know about these criteria:
Circulating supply – the number of coins in circulation.
Total supply – the number of coins in circulation and the number of coins in reserve or lockup.
Maximum supply – the total number of coins that will be produced. This number can be finite or infinite.
If the project you wish to invest in has all these tokenomics details, it makes it more trustworthy. To check the community activity on social media and see if the said numbers coincide with the reality is another good check you should try.
Identify your Entry and Exit strategy
Once you're all set and sure that a given cryptocurrency project meets your demands, you should make a plan. There is always an entry and exit strategy to begin with. An entry strategy is the entry point into the cryptocurrency – you need to reach the perfect "bottom" to buy the crypto so the price wouldn't drop any further. An exit strategy is when you wait for the perfect price to sell your assets. You should analyze the chart first and draw the action timeline.  
Sticking to your own plan is good, but it also should be flexible. We don't live in the ideal world where all goes according to the plan – sometimes it is better to not hesitate and make a strong-willed decision when the time comes.
Bottom Line
The point of DYOR is to not be afraid of the market volatility and be able to read between the lines. A decent amount of research makes a successful investment and there is still a lot to learn about the cryptocurrency market. Even with the basic knowledge we gave you today, you can protect yourself and your business from internet scams and financial fraud. Just DYOR any new project you find to invest smart.
Getting started with cryptocurrency is not hard at all. Naturally, it is better to begin with a trustworthy and secure place, such as the Plisio cryptocurrency payment gateway. The platform provides a free crypto wallet you can use for transacting in cryptocurrency and useful tools that can help you accept cryptocurrency for your own needs. There 19 available cryptocurrencies, 11 e-commerce integrations and 4 libraries for the most popular programming languages to set up an API – all that just for 0.5% fee. Try register on Plisio now and start investing smart! 
Please note that Plisio also offers you:
Create Crypto Invoices in 2 Clicks and Accept Crypto Donations
12 integrations
6 libraries for the most popular programming languages
19 cryptocurrencies and 12 blockchains