How to start working with crypto as a small business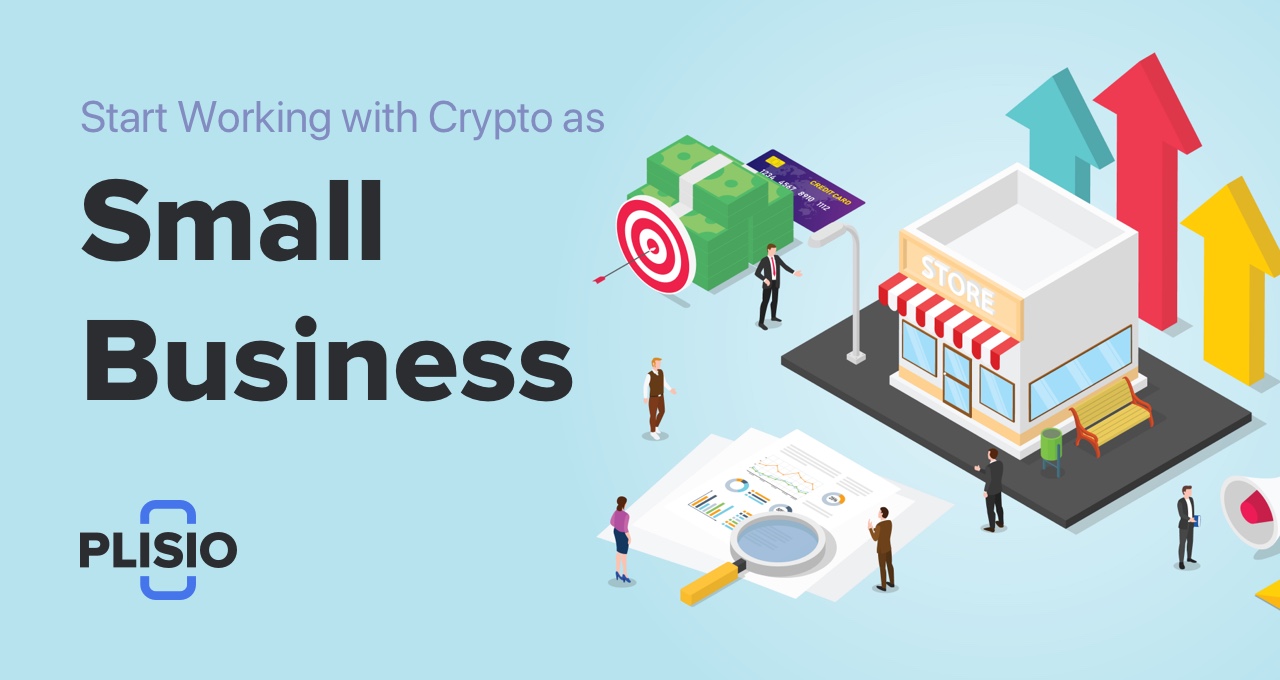 We live in the era of technical progress where new technologies arise to replace the older, less efficient technologies. One good example of such a revolutionary technology is cryptocurrency – it started as merely just an idea and transformed into a decentralized digital asset that has the potential to fill the place of such commonly used financial asset as fiat money. Facing the brutal opposition from the mainstream media sources, cryptocurrency still manages to stay afloat and attracts all over the globe to be used as the primary payment method. 
When we speak about Bitcoin and other crypto as payment for goods and services, this decentralized technology phenomenon makes cryptocurrency users immune to any geographical limitations, which makes it a very attractive alternative to a credit card payment option for businesses. With cryptocurrency, they can reach a larger number of customers around the world, no matter the political situation or other obstacles that prevent people from paying with credit cards online. Besides, adding a cryptocurrency payment option will make any small business quite competitive on the market. 
Businesses that won't adopt a cryptocurrency payment option will be simply left behind technological progress and relevant trends. There are more and more customers in possession and willing to trade their crypto, with the current user count predicted to be roughly 300 million worldwide. 
What is the law opinion on crypto?
Unfortunately, not all the jurisdictions are eager to welcome cryptocurrency on its way to mass adoption. This is mostly due to the existing Anti-Money Laundering regulations that require citizens to keep track of their transactions for taxation purposes. 
If you wish to accept Bitcoin, Ethereum, Litecoin or some other cryptocurrency for your business, you do not have to worry about your assets getting frozen or blocked. You just have to find a reliable service that complies with the local regulations and do your accounting thoroughly. As it comes to cryptocurrency, there are no additional tax regulations regarding it yet – cryptocurrency is regarded as capital assets, which means you will need to pay capital gains tax only when you sell the crypto you earn at a profit. 
Choose the right platform
Once you've decided that you want to accept cryptocurrency as a small business, you need to find the best way to accept cryptocurrency payments, suitable both for you and your clients. 
You can accept cryptocurrency in several ways – by wallet addresses, QR codes, point-of-sale and, of course, online payment gateways. 
For a small business to transact in crypto on a regular basis. A cryptocurrency payment gateway is necessary. Such gateways allow merchants to accept cryptocurrency directly from their customers, while offering a range of useful tools that help keep track of the crypto income flow and manage your transactions in a more efficient manner. 
Plisio, for example, is one of the best cryptocurrency payment gateways that offers useful accounting, mass-payouts and other business tools at the lowest fee on the market, which is only 0.5% in comparison to the competition 1-2%.  The Plisio platform claims to be a cost-effective solution for small business owners who're looking to expand their reach and boost their revenue and supports 18+ cryptocurrencies and 10 e-commerce plugins.
Plisio offers various integration options, including APIs, a payment button, Donation Page and shopping cart plugins to make any merchant ready to embrace all benefits that come with cryptocurrency. 
Let your customers know that you accept cryptocurrency
Giving your clients a new payment option can never hurt. Being a cryptocurrency-friendly business will grant you a loyal client base, offering your business acknowledgment both online and offline. 
It doesn't matter how great the bank you're working  with is – you will still face geographical limitations when processing payments from another country. Cryptocurrency, in turn, provides for seamless cross-border payments that are processed much faster and not subject to heavy bank fees. This makes it much easier for a customer to buy goods or services online without worrying about converting their native currency to dollars or that the payment can get canceled or stuck on the bank worker's side. 
You can also list your business on some aggregator website that has high traffic of crypto holding visitors. This will lead to more potential customers finding your business and more sales. 
How to start accepting crypto?
If you decide to grow your business by adding a cryptocurrency payment option to your website, the Plisio cryptocurrency payment gateway will be a great start. Not only will you find the widest range of accepted cryptocurrencies and lowest service fees, but also a variety of tools that greatly expand your business capabilities, such as bookkeeping, mass payouts, invoicing and ready-made customizable Donation Page. You will also find a lot of helpful guides on API integration, tool usage and plugin setup. Among other Plisio benefits are:
Free-of-charge registration and setup
24/7 Live Chat Support
Automated mass payouts
Enhanced privacy and security
Multi-currency account
Trending integrations
Start working with cryptocurrency today and you will see a difference in no time!
Please note that Plisio also offers you:
Create Crypto Invoices in 2 Clicks and Accept Crypto Donations
12 integrations
6 libraries for the most popular programming languages
19 cryptocurrencies and 12 blockchains