DeFi vs CeFi: Explaining the Difference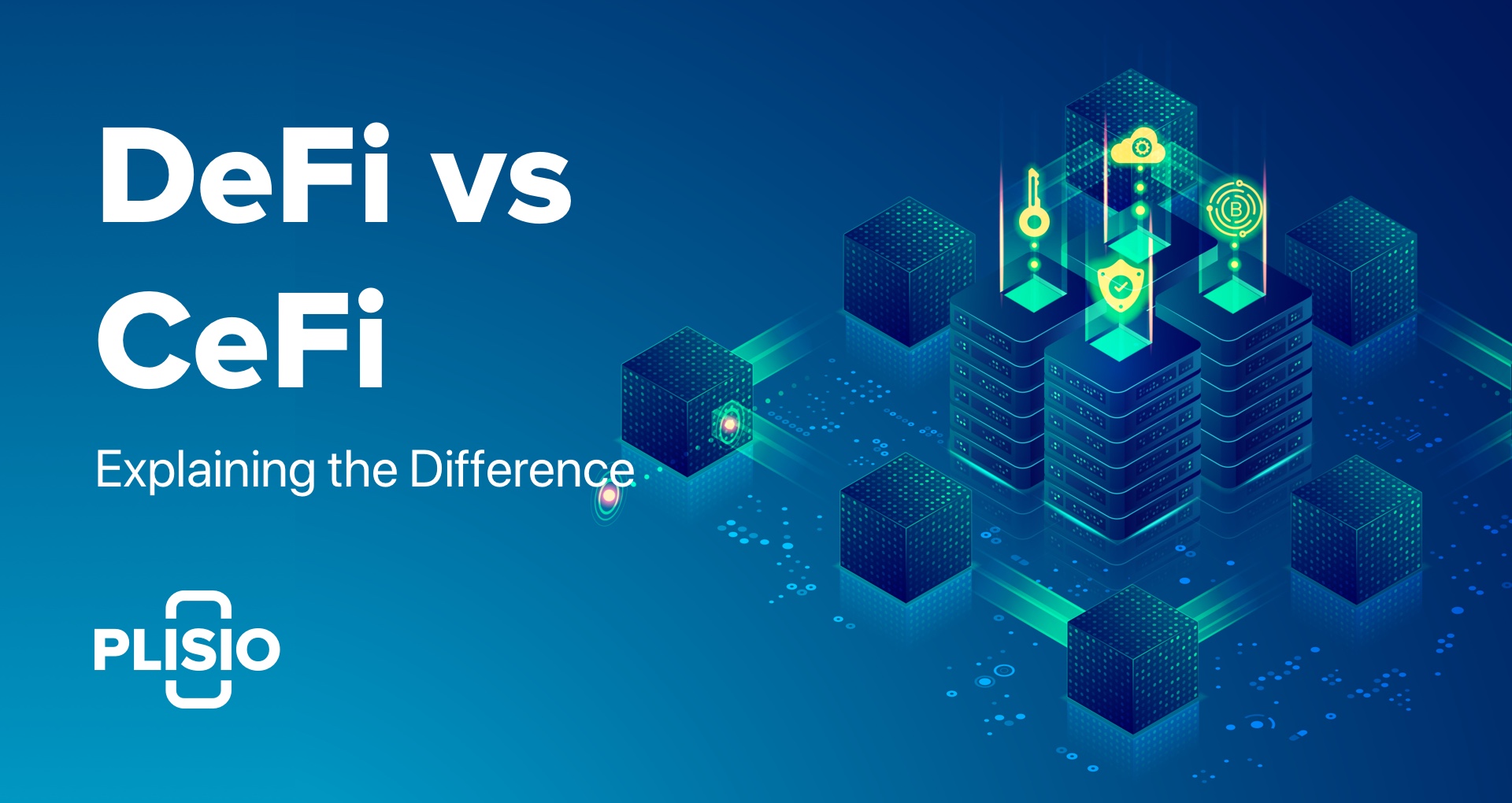 The world of finance nowadays has expanded to an enormous scale: it's not just banks anymore, there is a new, digital world of finance to it. Take cryptocurrency, for instance – its concept has evolved from simple trading to the completely new set of associated factors like using cryptocurrency to proceed with such financial services like payments, lending and borrowing. However, people have to choose what cryptocurrency platform they want to cooperate with, as this choice is very important due safety and anonymity reasons. The choice we're talking about is decentralized finance (DeFi) versus centralized finance (CeFi).
To explore the difference between these two cryptocurrency concepts, we need to learn what DeFi and CeFi are first.  
What is Decentralized Finance?
DeFi is a general term for blockchain based financial products and services built in an open-source, permissionless ecosystem. As blockchain technology is famous for financial transactions conducted with no intermediaries involved, DeFi presents itself as a blockchain sub-field offering a transparent financial system anyone can take part in. Besides, decentralized finance suggests a wide set of financial services to choose from, like yield farming, crypto loans, asset storage and other. To use such services, users are supposed to use decentralized applications, also known as dApps. But if we have to determine the key DeFi difference, it is going to be the user's control over their funds. No one else is allowed to move or destroy their funds without the owner's permission.  
Main Decentralized finance points
- Permissionless. No one requires a permit to use DeFi services. There are no KYC procedures, which means full anonymity of the user. DeFi products can be accessed without a wallet or depositing money thus lowering the entry barrier for users who are not eager to deposit their crypto assets. Another good thing about the DeFi is improved collaboration within the community because new applications can be built freely on top of any platform – all ecosystem elements are interconnected and serve to benefit from each other.
- User's Control. All DeFi users are in direct control over their funds. The private key pair of their wallets is only at their disposal. Self-custody of funds is one of the best parts about decentralized finance.
- Transparency. DeFi users don't need to worry about the platform fulfilling their obligations as there are constant audits being scheduled. Moreover, anyone can use auditing tools themselves and make sure that all transactions are executed as promised.
What is Centralized finance?
Long before the invention of DeFi, Centralized finance was the only standard for trading cryptocurrency. The basic feature of CeFi is its "centralization" – all the transactions are conducted through a centralized crypto exchange (CEX). It is for exchange and exchange only to decide what coins its users will trade and at what fee. Examples of such exchanges are Binance, Coinbase and Kraken. When conducting business on centralized crypto exchange, you don't have access to your own wallet as you don't have a private key. It means that you're not in control over your funds. Besides, when registering on a crypto exchange, you need to comply with a set of rules concerning tax audits and AML laws.
The good middle ground between CeFi and DeFi can be neutral platforms like Plisio. The platform offers you anonymity, a rich set of financial tools and good perspectives for business growth. Plisio is a great option for those who want to get the best of funds security and fair transaction fees.
Main Centralized finance points
- CEX control. All the CEX transactions are managed within a separate account where all the funds are stored without the user's custody. It makes users very vulnerable in case of technical exchange malfunctions or security attacks. Moreover, users need to undergo KYC and other verification procedures in order to create an account thus losing their anonymity associated with cryptocurrency in the first place.
- Cross-chain services. CeFi services offer funds from different blockchains, while any DeFi platform is set only with the native blockchain coins tokens. It is a prominent CeFi advantage over DeFi as DeFi does not provide multi chains support due to cross-chain swap difficulty.
- Flexible fiat conversion. When it concerns converting cryptocurrency fiat and vice versa, CEX is the best choice. CeFi services cooperate with a centralized institution that supplies fiat, which DeFi services do not. Fiat-crypto transactions is the prior objective of CeFi, therefore they offer better flexibility and improved customer service in this matter.
DeFi vs CeFi Final Verdict
It doesn't matter what services you prefer, both CeFi and DeFi are aiming towards the same goal – to promote e cryptocurrency and raise its trading volume. DeFi can be considered as the next step to CeFi, as decentralized finance offers more innovation and groundbreaking technologies. With DeFi, users can conduct fee-free transactions and expand the community to reach new peaks. CeFi, in turn, serves as an old and uncontroversial way to convert crypto to fiat and take your well-deserved profits. You also have more investment options, but you give up transparency and privacy offered by decentralized finance.
Get started with Crypto
If you're looking for a way to conduct your business, get paid in crypto and remain anonymous in the best DeFi traditions, check out Plisio platform. There is no need to undergo KYC or other legal hurdles – you can start accepting crypto in a matter of a few minutes. Enjoy your anonymity with the lowest fees on the market. 
Please note that Plisio also offers you:
Create Crypto Invoices in 2 Clicks and Accept Crypto Donations
12 integrations
6 libraries for the most popular programming languages
19 cryptocurrencies and 12 blockchains