5 Tips on How to Store Cryptocurrency Safely in 2022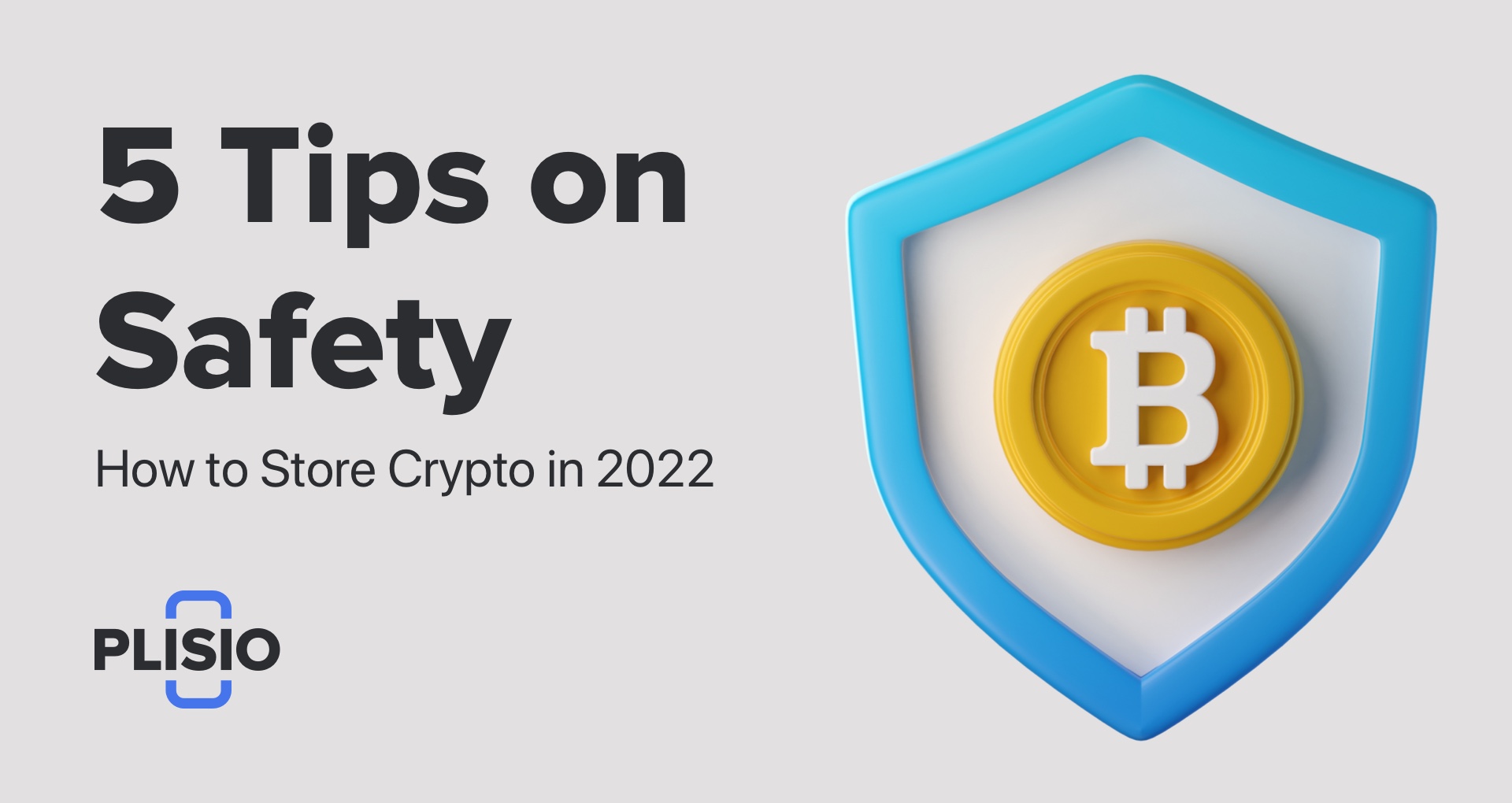 Cryptocurrency is a precious resource that can be both strength and weakness if it is in the wrong hands. There are more and more horror stories about people losing their crypto holdings, no matter whether they are pro or regular investors. The list of reasons why it could have happened is almost endless and doesn't necessarily involve fraudulent activity of some hot online wallets or crypto exchanges. Forgotten passwords, poor security standards or lost account access…All of that comes out of people disregarding the importance of digital security and their funds' privacy online.
With all this recent hot news, we put together best digital safety practices crypto investors should follow in 2022.
Be careful about the default crypto exchange wallets
Newcomers to the crypto industry tend to purchase cryptocurrency from the top crypto exchanges, like Binance or Coinbase, and use their default custodial wallets to transact crypto. Unfortunately, such CEX wallets are not the best choice to store cryptocurrency safely as these companies' websites are subject to constant security breaches and hacker attacks more than any other platforms. It doesn't naturally mean that CEX have poor security standards; these breaches happen mostly due to exchanges popularity and prominent crypto holdings hackers lay their eyes on.
Apart from that, these crypto exchanges are prone to get political when it comes to funds belonging to the residents of "unfriendly" countries. Such funds could easily get blocked if stored in the default exchange wallet.
Choose a trusted crypto trading platform
Now to the most painful topic for crypto investors – theft of crypto holdings. Choosing a trusted crypto trading platform is of utmost importance, but it is easier said than done nowadays.  Still, it is possible to take all the precautions you can when dealing with new platforms. There is no internationally accepted example of perfect security standards for such platforms, however, so you should examine the security principles of a given website first. The more info you find on the platform security standards, the better. Don't hesitate to visit the Trustpilot page if there is one and check out the users' reviews.
It is especially important to work with a trusted platform if you're a business owner and accept payments in crypto. To ensure safety of your clients funds, you can accept crypto via crypto payment gateway. Plisio is a business-oriented platform whose primary concern is security and privacy of their clients' data and crypto holdings. A safe crypto wallet,  wide range of business and invoice creation tools, simplified crypto accounting and many other benefits any business owner will find useful all that is offered on Plisio.
Do anti-phishing test
The rule of this security practice is simple – do not bait the hook. To clarify, if you're dealing with phishing websites it is not a big deal. First of all, be careful when you receive an email with the link with the domain name similar to the crypto trading platform or exchange you've already registered on. For example, you see www.b1nance.com instead of www.binance.com, with one or more different symbols in the name. They might not be easy to spot first, but it is doable. These phishers' goal is to make you enter your sensitive data on the phony website and get access to your crypto funds, so be extra careful when entering your data anywhere online.
After all, you can use the Google anti-phishing test that takes up to 10 minutes of your time. You will answer the questions about your digital hygiene to increase your phishing methods awareness in the future.  
Strong password and 2FA come first
Setting a strong password is the basic rule of cyber security. Your password must consist of uppercase letters, lowercase letters, numbers, and special characters. For example, a nice password would be "2Frvjd-4fgJH-gfH8j" where all symbols are random. Besides, your password must not repeat each other on different platforms. Imagine a hacker gets access to your account login data. If you have the same password for some other accounts online, it won't be a problem for them to get access to your sensitive data or funds on another website.
Don't forget to use 2-factor authentication to enhance your account security. Biometric login is the best choice if we compare it to the standard SMS verification as it excludes the possibility of third party logging in when stealing your phone or laptop.
Cold wallet is not such a bad idea
If you've decided to give up on the Internet and think that all these security precautions are too much trouble for you, getting a cold wallet might be just the solution for you. A cold crypto storage or cold wallet is a USB device disconnected from the Internet. Getting such a device might be costly, but the ultimate protection is definitely worth it. No security breach or a hacker attack can threaten your funds, as it is only you who have access to it. Think of it as a gold bar stored safely in the safe no one knows the code to.
Bottom Line
If you consider all the tips and choose to store your crypto holdings smart, your crypto experience promises to be worry-free. There is no need to add more stress to your life as it is already stressful as it is. Give yourself a hand and do your best to prove the best digital security to your funds, and do not forget to enlighten your friends.
If there is much more at stake than your personal crypto holdings and it's your business that is involved in cryptocurrency, there is a solution too. Accept cryptocurrency and store it safely on the Plisio crypto payment gateway. Following the best data encryption standards, Plisio offers their clients the full protection and privacy of their business crypto holdings.
With this payment gateway, you can accept crypto directly on your website and store it in a safe Plisio wallet that no one can access but yourself. See for yourself!
Please note that Plisio also offers you:
Create Crypto Invoices in 2 Clicks and Accept Crypto Donations
12 integrations
6 libraries for the most popular programming languages
19 cryptocurrencies and 12 blockchains