5 Reasons Your Business Will Benefit from Crypto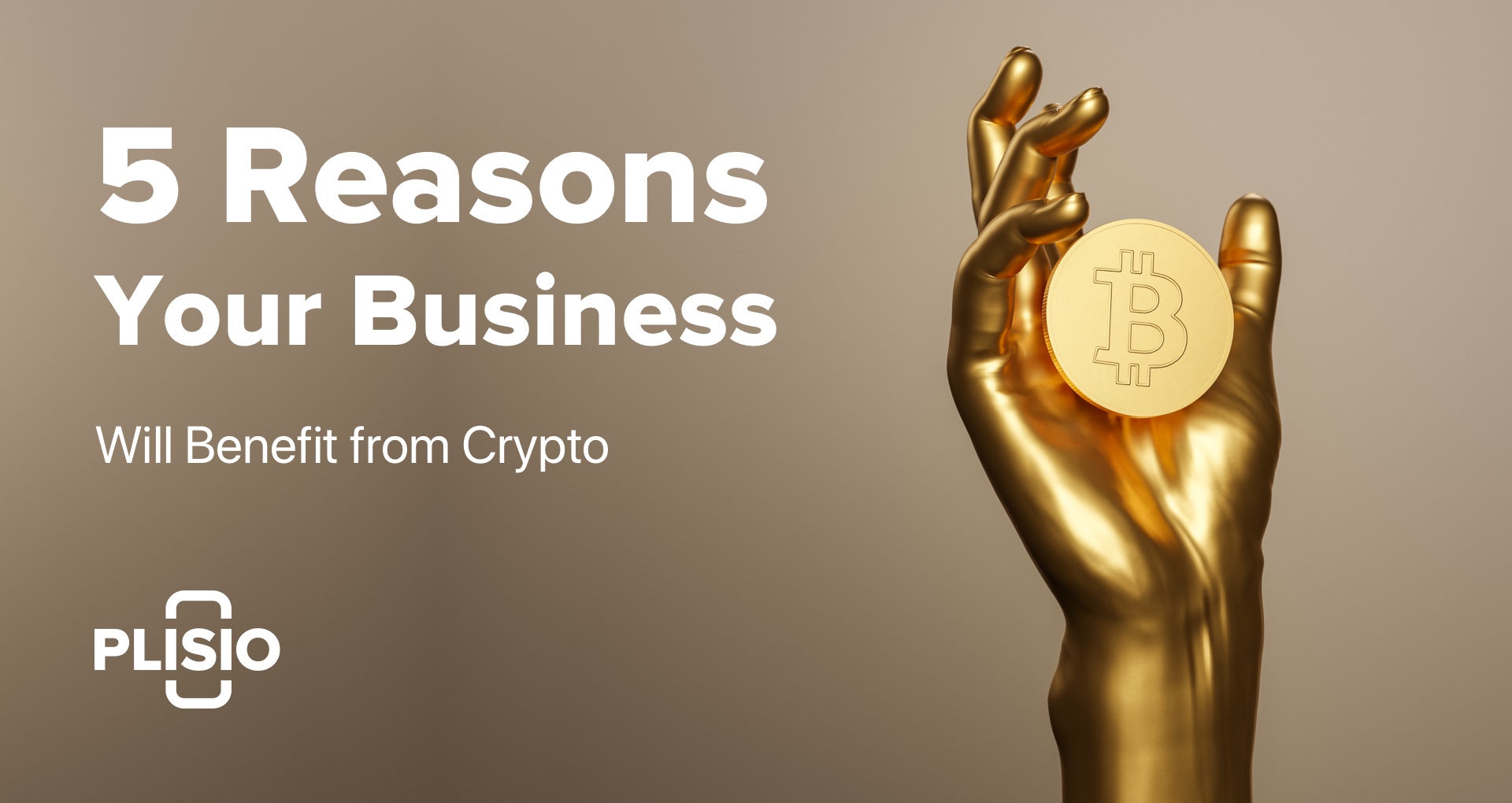 Cryptocurrency market has been growing for quite a while, but there are not so many people familiar with the crypto technology concept, let alone the fact when or how it was created. Fortunately for these people, they don't need to fully understand how cryptocurrency works to benefit from it. What is the most important fact to know is that Bitcoin or any other cryptocurrency is the currency operating on the principle of decentralization. It means that those currencies are not affected by the central bank rules and are not subject to any kind of administrative regulation.
The blockchain has not only unsettled the whole payment industry, but also helped businesses of different spheres to develop and grow. Another pleasant point is that there are plenty of ambitious software developers interested in optimizing crypto usage and availability for everyone, from investors to enterprise or small business owners.
In this article, you will learn why such a trend as cryptocurrency can be the real salvation for your business and its needs. 
Here are the main reasons your business will benefit greatly from the blockchain technology:
Expand Client Base
Anyone acquainted with cryptocurrency as a payment method would tell you that this is theу most seamless way to conduct a transaction. People who have already paid with crypto will unlikely go back to credit card or cash payments, so they might be a lost client category for a merchant who hasn't integrated crypto payments yet.
Apart from them, there are a great deal of "unbanked" people nowadays. It might be due to either bank system insufficiency or corruption and this looks really good for merchants who've already opened the door for cryptocurrency in their business. Besides, credit card payments result in different complications, ranging from cross-border restrictions and fees to intermediaries intervention, which result in long transactions processing. With a decentralized Blockchain system, crypto transactions go faster and safer for both the merchant and client. No bank authorization required.
No Chargeback
This is great anti-scam protection for any business. It is a common story when a customer purchases some goods and then cancels the payment, often after the goods have already been used or even sold somewhere else.
Fortunately, this fraudulent scheme applies only to payments in fiat. Blockchain ecosystem is protected from any kind of refund or chargeback as transactions there are irreversible.
Both parties confirm every transaction and once it is complete, it cannot be reversed. For a customer to return the goods, they must contact the merchant directly.  In the long term, it will save a business a decent amount of money.
Improved Payment Processing
The sensitive subject as high fees when receiving and sending payments is not very relevant when it comes to crypto. Bitcoin and other cryptocurrencies are very advantageous in terms of payment processing; a decentralized system does not only allow receiving payments for goods or services almost instantly, but also frees both parties from high transaction fees. This is a nice opportunity to increase the revenue and accumulate some funds for small business owners.
Moreover, using crypto as a mass payout method is a nice tool for business equity. All the employees will be given an equal share of the enterprise or company profits. On top of that, the payout process is fully automated and instant so there won't be any human factor affecting the transaction efficiency.
Enhanced Customer Privacy
Unfortunately, no such system exists that can be fully protected from hacking attempts. However, the decentralized blockchain structure is very challenging to hack through to begin with. End-to-end encryption is in control of any unauthorized break-ins or fraudulent activity. A large network of computers, which blockchain actually is, is not worth the effort to hack as the data is stored in all the computers simultaneously.
Apart from the perks of using the blockchain system, such platforms like Plisio offer enhanced anonymity for its clients - there are no extra paper or KYC procedures needed.
Diversify Your Portfolio
We all know what risks imposes keeping all eggs in one basket -- inflation doesn't spare anyone.  Even if you're a business owner, it goes twice as hard for you because using the same money source for both payments and investment might not affect your total revenue in a good way. Moreover, having your funds constantly regulated by banks doesn't give you much freedom. Here is where the cryptocurrency shows up – no regulations or geopolitical crisis can affect you if you store some of your funds on the blockchain. There is a good profit perspective as well as crypto price can easily make +20% a day. In case you're afraid of its volatility, you could always transfer your funds to stablecoins.
How to Get Started?
You've decided that your business will benefit from crypto and you don't know how to integrate a crypto payment option? Plisio is a great choice for all kinds of businesses – they offer you a full and simple crypto payment gateway integration so you could accept crypto wherever you are. You're not required to be a pro at coding or know any process subtleties. You will instantly start accepting crypto and be able to set your own invoices and mass payout schedule. On Plisio, all online merchants are free to enjoy the wide range of useful tools and features with the lowest fees on the market. Grow your business with crypto right now! 
Please note that Plisio also offers you:
Create Crypto Invoices in 2 Clicks and Accept Crypto Donations
12 integrations
6 libraries for the most popular programming languages
19 cryptocurrencies and 12 blockchains