USDT vs USDC vs BUSD: Similarities & Differences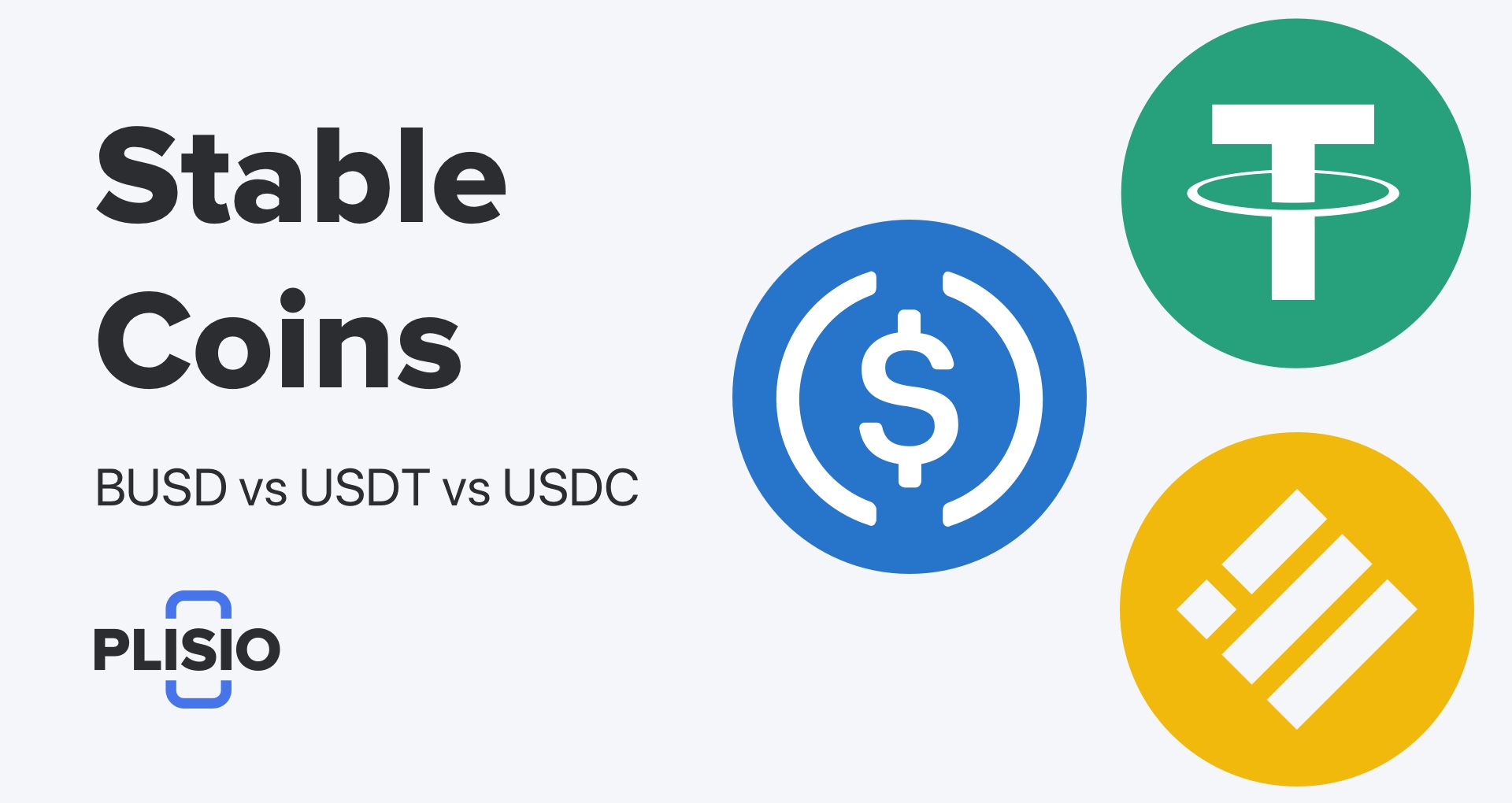 Stablecoins offer a unique combination of stability and speed while being backed by fiat currency and allowing for quick transfers through blockchain networks. Some well-known stablecoins in the crypto space include Tether (USDT), USD Coin (USDC), and Binance USD (BUSD). If you're considering trading or accepting stablecoins as payment for your goods or services, it's important to understand their differences and how they compare to fiat currencies. 
All these stablecoins are pegged 1:1 by their respective reserve fiat currency – the US Dollar. Although they share some common features, there are certain differences between them that will be covered in this article.
Stablecoins Key Features
Stablecoins provide an extra layer of safety for investors as they are backed by fiat currency, which adds to the security provided by blockchain technology. Unlike traditional banks that have limited operating hours, cryptocurrencies are available for trading 24/7 and can be accessed from anywhere in the world.
Stablecoins are particularly useful for cross-border payments as they offer a quick and easy way to send and receive payments internationally. Additionally, stablecoins are less volatile than other cryptocurrencies and maintain a stable value.
Many stablecoins are transparent, and users can verify that there are enough assets in reserve to back them. This transparency adds to the overall trustworthiness of stablecoins for investors, traders and business owners.  
USDT – What Is It?
With a market cap of $81.6 billion, USDT is a highly popular stablecoin. It is issued by iFinex, a Hong Kong-based company that also owns the BitFinex crypto exchange. USDT is pegged 1:1 to the US Dollar, and any backing US Dollars are kept in reserve, allowing it to function like any other fiat currency, with the ability to be spent, transferred, or exchanged.
USDT was among the first cryptocurrencies to address challenges related to blockchain technology. Among such challenges were facilitating transfers of national currency (US Dollar) and providing customers with a way to check the token's value. Despite facing controversies related to its reserve management and degree of decentralization, USDT remains one of the most widely used stablecoins in the global market. It is accepted on numerous exchanges and compatible with various wallets.
USDC – What Is It?
The USDC stablecoin is another USD-backed cryptocurrency created to address the cryptocurrency volatility. Circle Internet Financial developed USDC as an Ethereum token that can be stored in a crypto wallet or transferred to the Ethereum blockchain.
Event despite the recent depeg of USDC, USDC is now collateralized and transparent, with an open ecosystem and reserves. USDC tokens can be redeemed 1:1 for USD with over $30.7 billion in circulation, and is supported by major exchanges. USDC has evolved into a multi-chain system and is also available natively on blockchains such as Polygon, Avalanche, and others.
BUSD – What Is It?
Binance and Paxos partnered to create BUSD, a stablecoin designed to provide crypto users with fast and flexible transactions. BUSD is, as any other stablecoin, backed by fiat currency, regulated, and has a 1:1 value with the US Dollar. 
BUSD is available on Ethereum and BNB Chain, allowing for inter-blockchain exchanges and transfers cost cutting. 
If you're a business owner or service provider, accepting payments in USDT, USDC or BUSD can be an excellent way to avoid cryptocurrency price volatility. 
To make it easy for you to accept stablecoin payments, you can integrate a payment gateway like Plisio. With Plisio, you can enjoy the lowest transaction fees in the market, making it an affordable choice for businesses of all sizes. Plus, the integration process is straightforward, and you don't need to have any specific coding knowledge to get started.
USDT vs. USDC vs. BUSD: Common Features
Despite being issued by different companies, these three popular stablecoins share many similarities. Firstly, all three are fiat-backed and have a 1:1 value with the US Dollar, making them more stable compared to other cryptocurrencies like Bitcoin or Ethereum.
They are also widely accepted and supported by major exchanges and wallets, and can be redeemed for cash at a 1:1 ratio. They are also regularly audited to promote trust and transparency in their value. 
Additionally, all three stablecoins are available on the Ethereum blockchain, although they have expanded to become multi-chain.
USDT vs. USDC vs. BUSD: Key Differences
Deciding which stablecoin to use involves considering important differences between them. One key difference is the blockchains on which they are available. BUSD is limited to Ethereum and BNB chains, while USDC and USDT are more multi-chain and cover various networks such as Tron, Solana, Algorand, Avalanche, and more. Being on multiple blockchains enables faster asset trading and potentially lower fees.
In terms of stability, USDC has had issues, occasionally dropping below $1.00, leading some to believe that USDC reserves may not be fully funded. In contrast, USDT and BUSD have remained stable, constantly pegged to the USD at a dollar value. Both stablecoins rarely fluctuate above $1.00 and only move between $0.99 and $1.02 in either direction. 
Which Stablecoin to Choose?
Although USDC has a high market capitalization and trading volume, it may not be considered the best stablecoin due to the lack of trust in light of recent events. Therefore, USDT or BUSD may be a better option for those who prioritize investing in a cryptocurrency with higher volume and liquidity, while USDC is a preferable choice for those who value transparency.
How to Get Started with USDT, BUSD or USDC
If you're looking to diversify your portfolio or manage your business, stablecoins could be an excellent addition. They offer several benefits, including stability, security, and transparency. 
Integrating USDT, USDC or BUSD into your website is easier than you might think. One option is to use a payment gateway, such as Plisio. With Plisio, you can easily integrate stablecoin payments into your website, and enjoy the wide range of 19 available cryptocurrencies, including USDT, USDC and BUSD 
Additionally, if you need to make mass payouts, Plisio makes it simple to do so in any crypto of your choice. This flexibility is a game-changer for many businesses. Plisio also functions as a crypto wallet, allowing you to keep stablecoins or exchange your crypto assets for them. Grow your business today with Plisio!
Please note that Plisio also offers you:
Create Crypto Invoices in 2 Clicks and Accept Crypto Donations
12 integrations
6 libraries for the most popular programming languages
19 cryptocurrencies and 12 blockchains