Meme Coins in 2022: Dogecoin and Shiba Inu Still Relevant?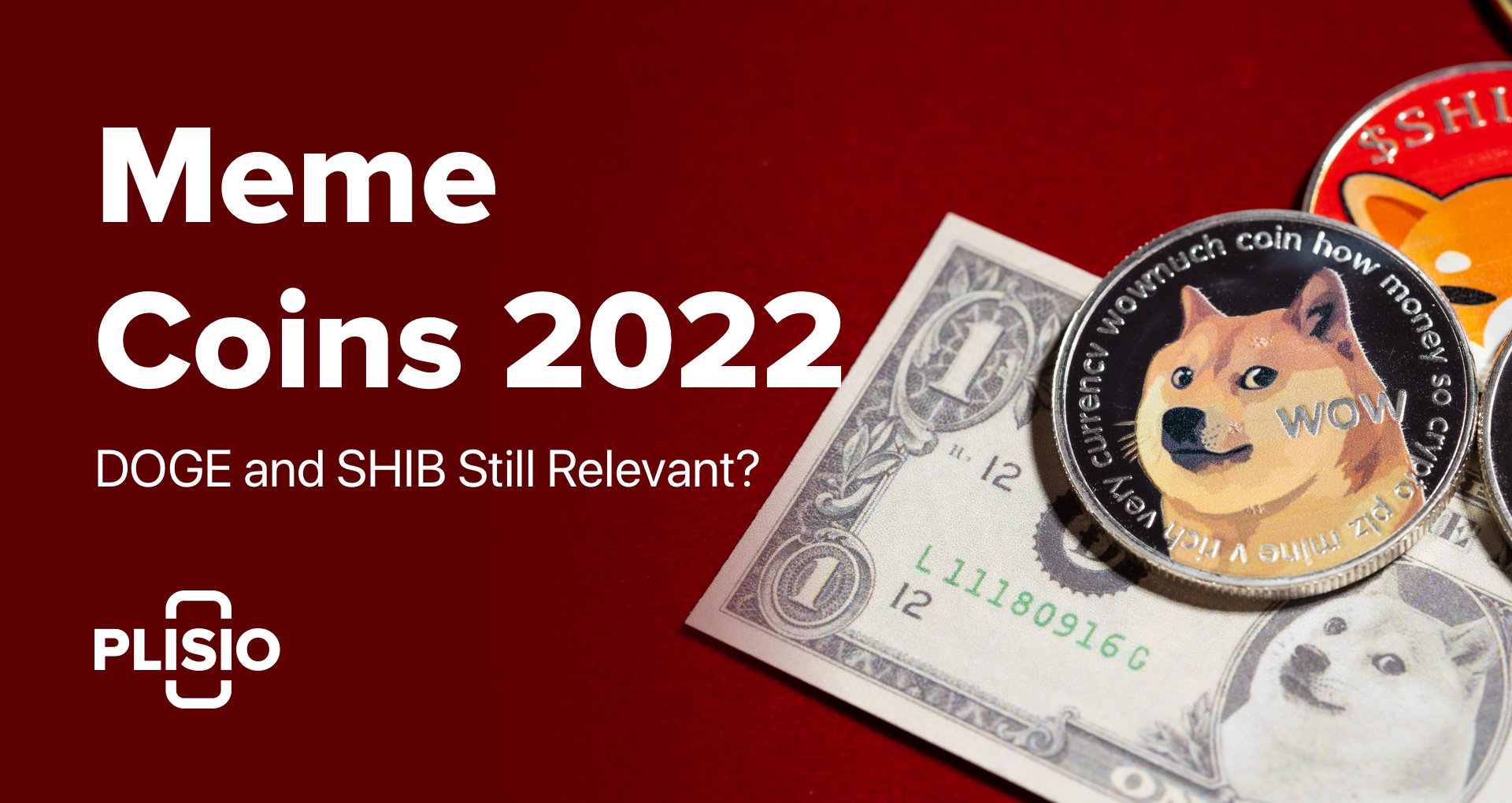 Dogecoin and Shiba Inu – everyone knows about these two meme coins as they rushed into the market in 2021. They both are worth less than a dollar and use a Japanese breed dog as their mascot. Why have they become so popular? Not only did big market players promote these coins, but they also made some investors billionaires overnight. Shiba Inu has made about 25 million percent over the year, while Dogecoin climbed 3 thousand fold its price. 
Which buy is a better buy and business investment option in 2022? Let's compare these coins and see for ourselves. 
If you're a business owner who is choosing between Shiba Inu and Dogecoin, you can actually do both. Plisio has both of the cryptocurrencies in their range, so you could accept any meme coin you desire for your business and facilitate its future growth.
Dogecoin
Dogecoin was created in 2013 by IBM and Adobe employees, Billy Markus and Jackson Palmer. The reason they chose Shiba Inu breed as their coin mascot was the rising popularity of the memes where the dog was featured. DOGE is the native token of the Dogecoin blockchain where the coin is hosted. 
The DOGE performance surprised the market only in 2021, when it made its biggest jump. In 2022, it's been flat so far and several positions in the market ranking. 
Approach to mining. Dogecoin uses the same Proof-of-Work consensus as computing power just as Bitcoin. If you're looking for faster transactions, Dogecoin is a better option as it takes less time to process transactions. They are cheaper, too. DOGE and Litecoin are mined together, which means that you can choose between these two coins. Such a feature makes the network more stable. 
Supply and Market Cap. Dogecoin might use the same consensus mechanism as Bitcoin, but the cryptocurrencies are not the same. DOGE has both a bigger circulation supply and maximum supply – there is no maximum supply at all. There are 129 billion DOGE in circulation and its supply is not limited, which is times more "generous" if we compare Dogecoin to Bitcoin. Over 10,000 DOGE are mined every minute. 
The current market capitalization of Dogecoin is around $19 billion. 
Shiba Inu
Released in 2020, Shiba Inu was meant to be a "Dogecoin killer". The Shiba Inu founder is a mysterious Ryoshi who chose to remain anonymous. SHIB is a ERC-20 token powered by Ethereum, which means that you can make DeFi products using the network Smart contracts. 
If we're talking about the token performance, SHIB made roughly 25,000,000% in 2021, being the most skyrocketing crypto of all time, ruling out even Dogecoin. 
Approach to mining. As Shiba Inu is a token powered by ETH, it is fully compatible with its ecosystem and mining principles. If we compare the mining procedure to the one of Dogecoin, we can see certain differences. In the best Ethereum traditions, mined SHIB is regularly being burnt and taken away from circulation. This is what makes its value stable and relatively close to the DOGE value. 
Supply and Market Cap. The situation with the Shibu Inu maximum supply is a little bit different from DOGE – there only 589,735,030,408,323 SHIB exist. The market capitalization of Shiba Inu is around $13,6 billion, which is less than its meme coin competitor has. 
Shiba Inu was launched not so long ago, but it is catching up quite quickly – the coin is only three positions below DOGE and it's getting up as we speak. 
Which one is a better investment option?
One thing remains clear – both DOGE and SHIB are kind of speculative assets to invest in. Meme coins are easily manipulated by the community mood, which might be followed by sudden price drops if something goes wrong. The best way to play on their price is to diversify some portions of your portfolio to each of them, thus being prepared for the coins volatility and sharp ups and downs of either. 
Shiba Inu seems to be a better investment option in the short term as there is some hype and memes popping out around it; Dogecoin, in turn, can be considered a better long-term investment for those who believe that Elon Musk has not abandoned his "child" just yet. 
Bottom Line
If you're trading cryptocurrencies or accept it for your business, you need to be sure of what you're buying. You can play with both Shiba Inu and Dogecoin and wait for the next coin success with caution. Plisio cryptocurrency gateway has one of the widest cryptocurrency ranges on the market, along with the lowest fees, which makes it a perfect option for business owners. If you're choosing a more stable and reliable approach to your business growth, Plisio is what you need as the platform focuses on the steady business growth and long-term partnerships with their clients.
Please note that Plisio also offers you:
Create Crypto Invoices in 2 Clicks and Accept Crypto Donations
12 integrations
6 libraries for the most popular programming languages
19 cryptocurrencies and 12 blockchains