How to Accept Crypto Payments on WHMCS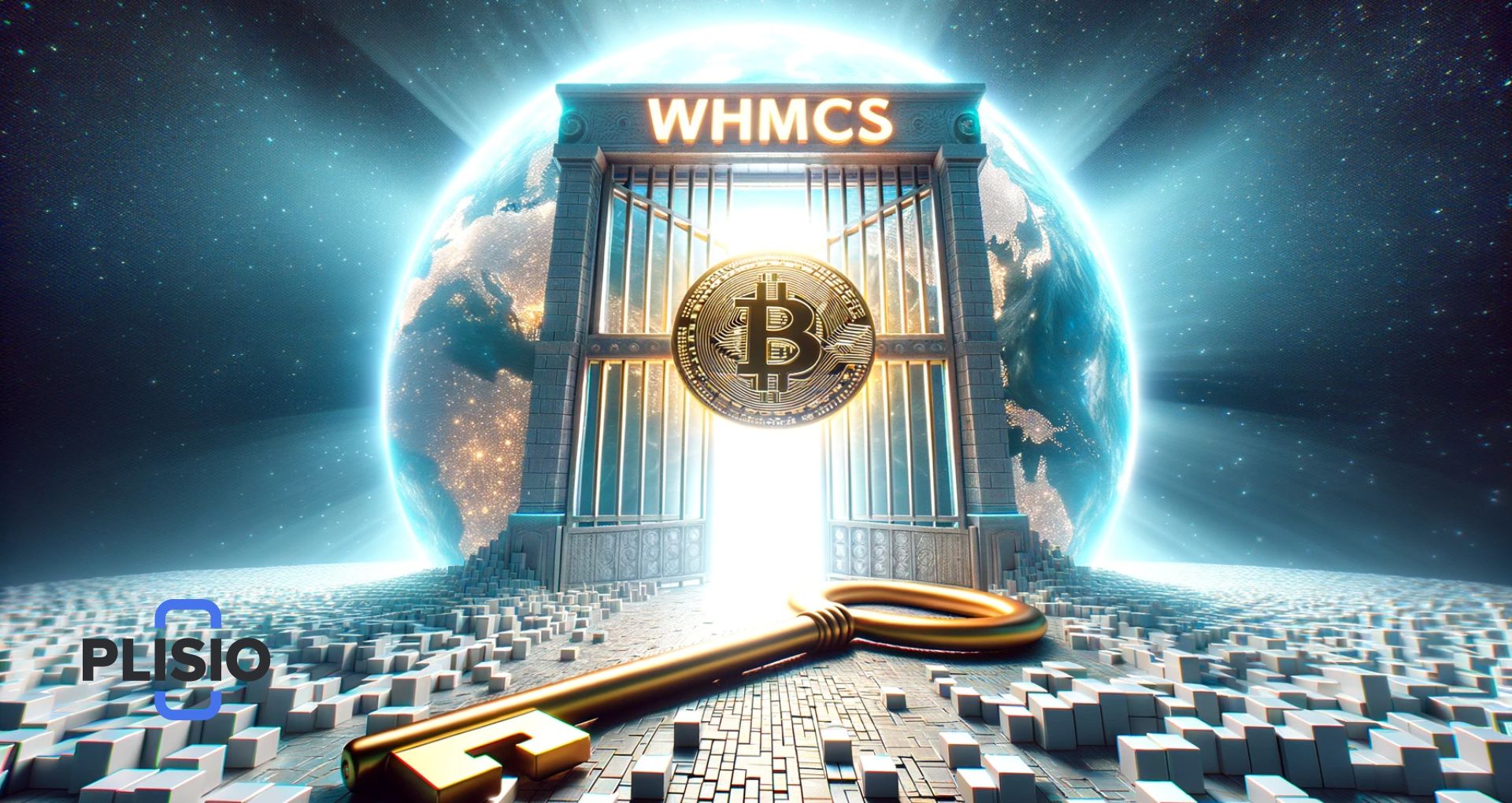 Plisio provides an advanced WHMCS cryptocurrency payment gateway, enabling e-commerce platforms to accept not only popular digital currencies like Bitcoin, Ethereum, and Tether but also an array of over 17 other altcoins. Recognizing the global shift towards digital payments, we've crafted a comprehensive guide to seamlessly integrate the WHMCS cryptocurrency payment module, ensuring that online businesses can tap into a vast international customer base eager to transact with cryptocurrencies.
Accepting Payments on a Website: How Does It Work
Accepting cryptocurrency payments on a website is not much different from accepting traditional fiat currency payments, though there are unique considerations to keep in mind.
Consider a scenario: An item on your website is priced at 100 EUR. On that day, Bitcoin's exchange rate stands at 25,000 EUR per Bitcoin. A prospective buyer, intrigued by the prospect of utilizing their digital assets, decides to purchase the item using Bitcoin. They proceed to add the item to their cart and, during the checkout process, opt for the 'Crypto Payment' method. Based on the prevailing market rate, an invoice is promptly generated, indicating that the customer owes 0.004 BTC. Once this amount is transferred, your account reflects a credit of 0.004 BTC.
Plisio empowers merchants with the ability to curate their payment preferences. Through the dashboard settings, you can specify which cryptocurrencies and stablecoins you're open to accepting, allowing for a tailored e-commerce experience that aligns with your financial strategies and market insights. This flexibility ensures that you can maximize your revenue streams while catering to a diverse clientele in the evolving digital economy.
Why to Choose Plisio
Since its inception in 2018, Plisio has been a stalwart in the cryptocurrency realm. Adhering strictly to regulations, it has consistently prioritized the safety, transparency, and protection of its vast user base.
Choosing Plisio as a cryptocurrency partner brings a plethora of benefits to the table:
Plisio not only offers a seamless crypto experience but also ensures that its users have a plethora of tools and features at their disposal, enhancing their financial journeys in the digital age.
How to Install the WHMCS Payment Plugin
Create a Plisio account
To accept crypto on your website, you should create Plisio account or login if you are already a client.
Create and set up a site
Follow these steps to create and set up:
Log into the account, go to "API", and click to "+".
Put a name and a url of your site.
Choose WHCMS on "Integration type"
Select the currencies you would like to accept.
Save to note the "Secret key".
Save changes.
Embed the WHMCS Crypto payment plugin on your website
Then you should add the plugin to your website and activate it:
Download the plugin.
Upload the plugin directory to your WHMCS folder.
Download and save your Secret Key.
Activate the plugin through Setup → Payments → Payment Gateways → All Payment Gateways
Select "Plisio" and press the "Activate" button.
Enter your Secret key which you get before.
Please note that Plisio also offers you:
Create Crypto Invoices in 2 Clicks and Accept Crypto Donations
12 integrations
6 libraries for the most popular programming languages
19 cryptocurrencies and 12 blockchains