How to accept crypto donations on YouTube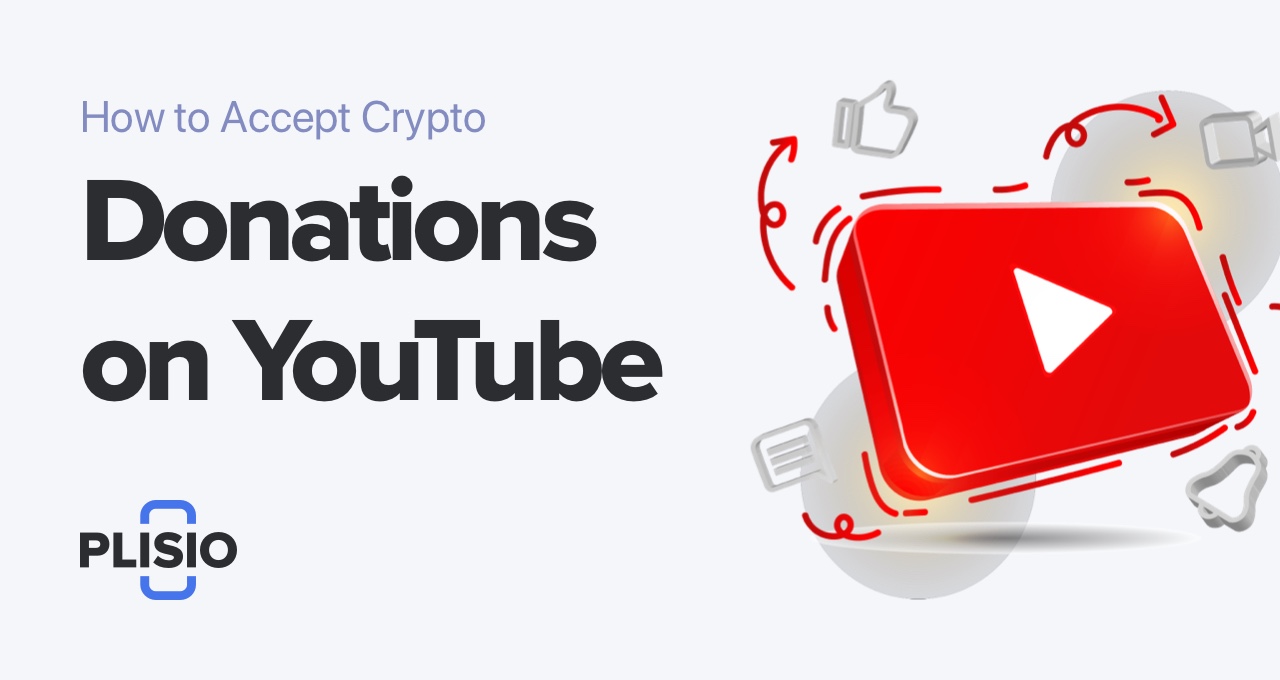 In this article, we will discuss all advantages of accepting cryptocurrency donations on YouTube and also show how to integrate Plisio to YouTube for you to be able to easily accept donations in Bitcoin, Litecoin, Ethereum, Dash or any other crypto in just a few clicks.
Why accept cryptocurrency donations?
Reduced risks. Such crypto as Bitcoin cannot be refunded. It means no refund fees, fines, suspended accounts or charity fraud schemes.
Larger donations. The market analytics shows that people who have crypto assets are prone to spend more due to the ability to pay with crypto directly (In comparison to paying with cash or credit/debit card)
A bigger audience. Such services as PayPal are not available in many countries, as well as there are people who cannot open a bank account or use credit/debit cards to send cash donations.
Less competition. There are around 500 million crypto wallets created, and this number is growing every day. This only proves that there are more people willing to spend crypto than just a huge number of online stores or people who integrated crypto payments just as an alternative payment method.
What are the benefits of using Plisio for crypto donations?
All your donations will go directly from the donor's wallet to yours. There will be no intermediaries monitoring your assets.
Usability. It is as simple as adding all wallet addresses of crypto you want to accept, create a donations link and insert it to your YouTube video and channel description. Done!
User-friendly interface. We will provide your clients with a simple donation form that will allow them to choose any crypto they wish to donate, as well as with the real-time exchange rate conversion so they could calculate the exact donation amount. Your donors will be offered several efficient payment methods such as a one-click payment for compatible wallets, QR codes for mobile wallets and the option to copy and paste transactions from the crypto exchange directly. Your donors will also be able to leave you a thank-you message before sending a donation.
Now that we've discussed all the Plisio platform and crypto donations advantages, let's get to the integration process.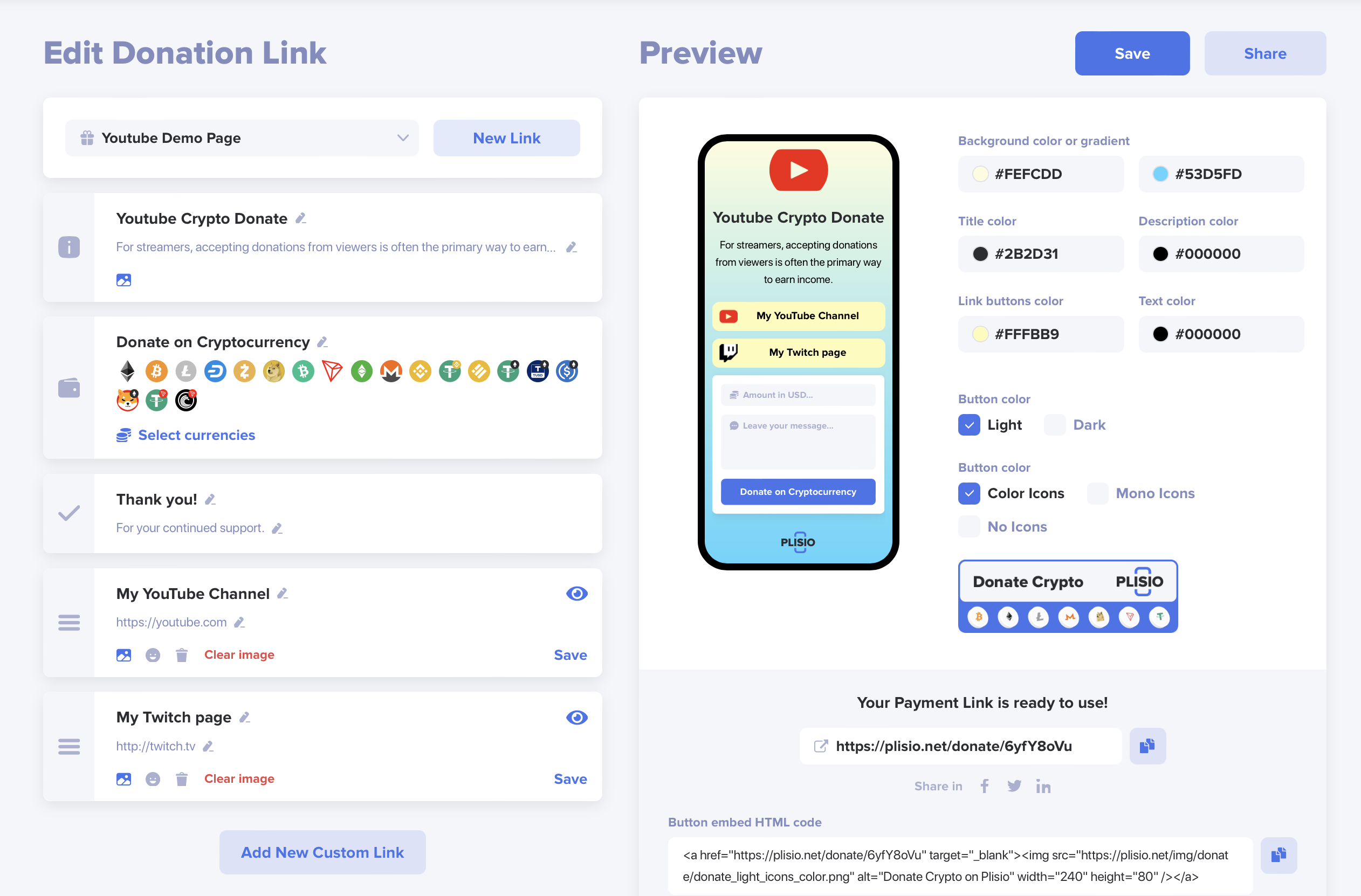 Setting a Plisio crypto donation button.  
Step 1: Sign up on Plisio and set up your Donation page. 
Go to your Plisio Dashboard (FAQ).
Click on the "Solutions" section. You will find your Donation page menu there.
Create a Donation page with your YouTube data. (For example, a unique username, logo or a profile picture to help your audience recognise you).
Select cryptocurrencies you wish to accept donations in. If there are any cryptocurrencies you don't wish to accept, just don't add them.
You can also add links to your web resources or social media profiles. If needed, you can add new links or remove the additional link fields. This field is optional.
Click on "Save" — now you have a link to your unique Cryptocurrency Donation page.
Step 2: Integrate your donation link to your YouTube profile and video description. 
Log into your Youtube Dashboard.
Click your User Icon located in the Top Right.
Either Select "Your Channel" or "Youtube Studio"
Scroll down and select your video and click edit or upload a new video
Paste the Donation Link into the "Description" Section.
Press the Save Button
Extra Step 3: Share your crypto donation link in the pinned comment
Alternatively, you can share the same information in your pinned comment.
If you want to be extra thorough, why not share it in both your description and pinned comment for twice the donations.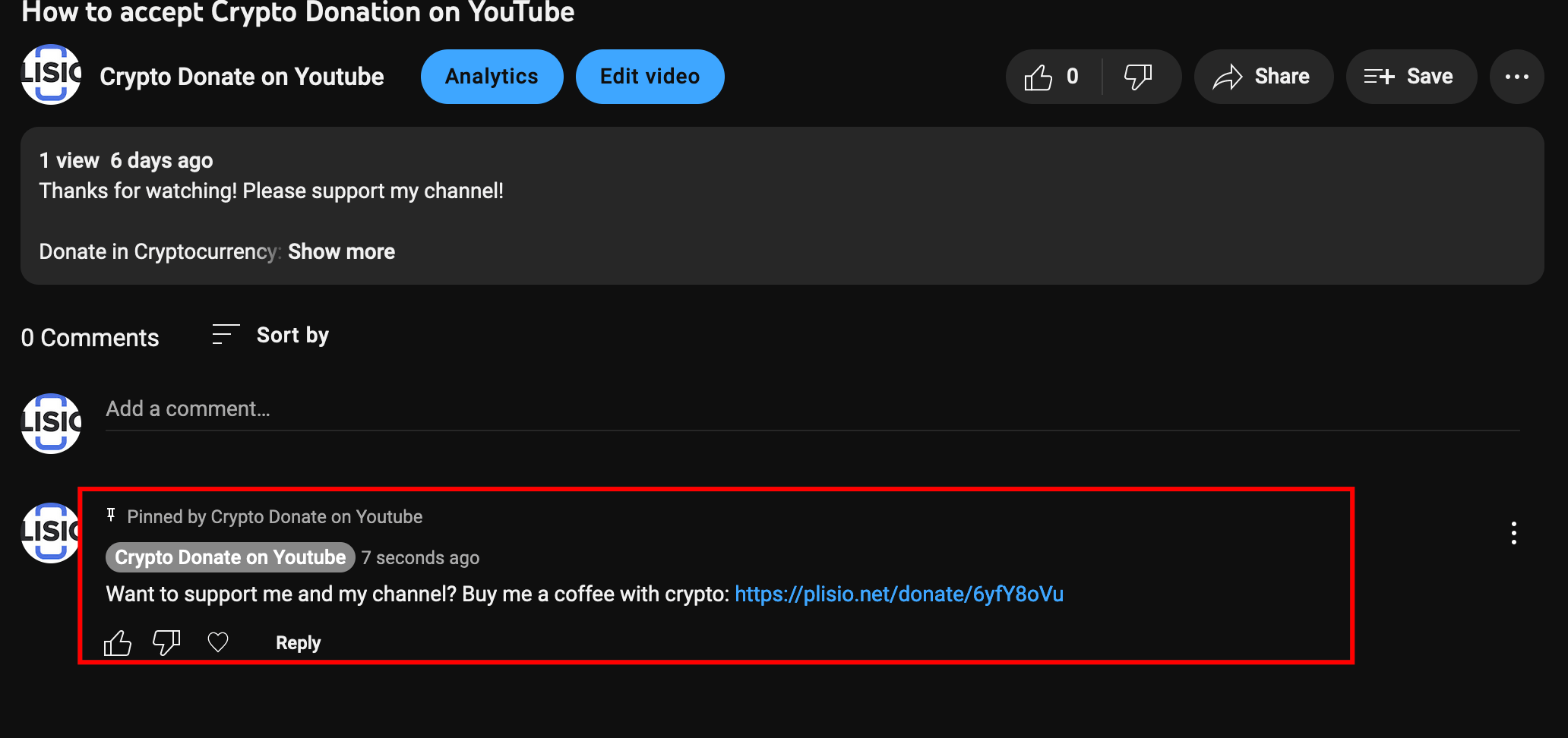 Extra Step 4: Tell people about crypto donations in your videos
You can also let viewers know that they can support you with crypto and that they can find your crypto payment link in your video description or pinned comment.
Extra Step 5: Share your crypto donation link in a video overlay
This can be combined with a video URL that shows your crypto payment URL.
Extra Step 6: Share your crypto donation link in your subtitles
Another cool hack how to promote your crypto donation page is by adding your URL to your video subtitles.

Extra Step 7: Share your crypto donation link in an info card
Did you know that you can add links to your website in info cards throughout your video?
Just create a crypto donation page on Plisio and link to it from an info card and watch the coins roll in.
Extra Step 8: Share your crypto donation link on the endscreen of your video
You also have the option to add a prominent link to the last 20 seconds of your video in the so called end-screen. Just promote your crypto donation page there and you're in good shape.
Extra Step 9: Share your crypto donation link on your Youtube profile link
Last but not least, make sure that you edit the about section of your YouTube and add your crypto currency donation page to your link section. This way interested viewers who explore your Youtube channel page will always see it at the top right corner.
Extra Step 10: Promote your crypto donation page on your Youtube profile banner
To get more people to click on your crypto donation page, write a call to action such as "Support the channel with crypto!" on your YouTube banner and add an arrow pointing towards the bottom right corner. Alternatively, you can also add the URL of your crypto donation page on your YouTube banner.
You've just successfully added your Plisio Donation link to YouTube!
We recommend you test your Donation button by making a test donation to make sure that your Donation link functions properly.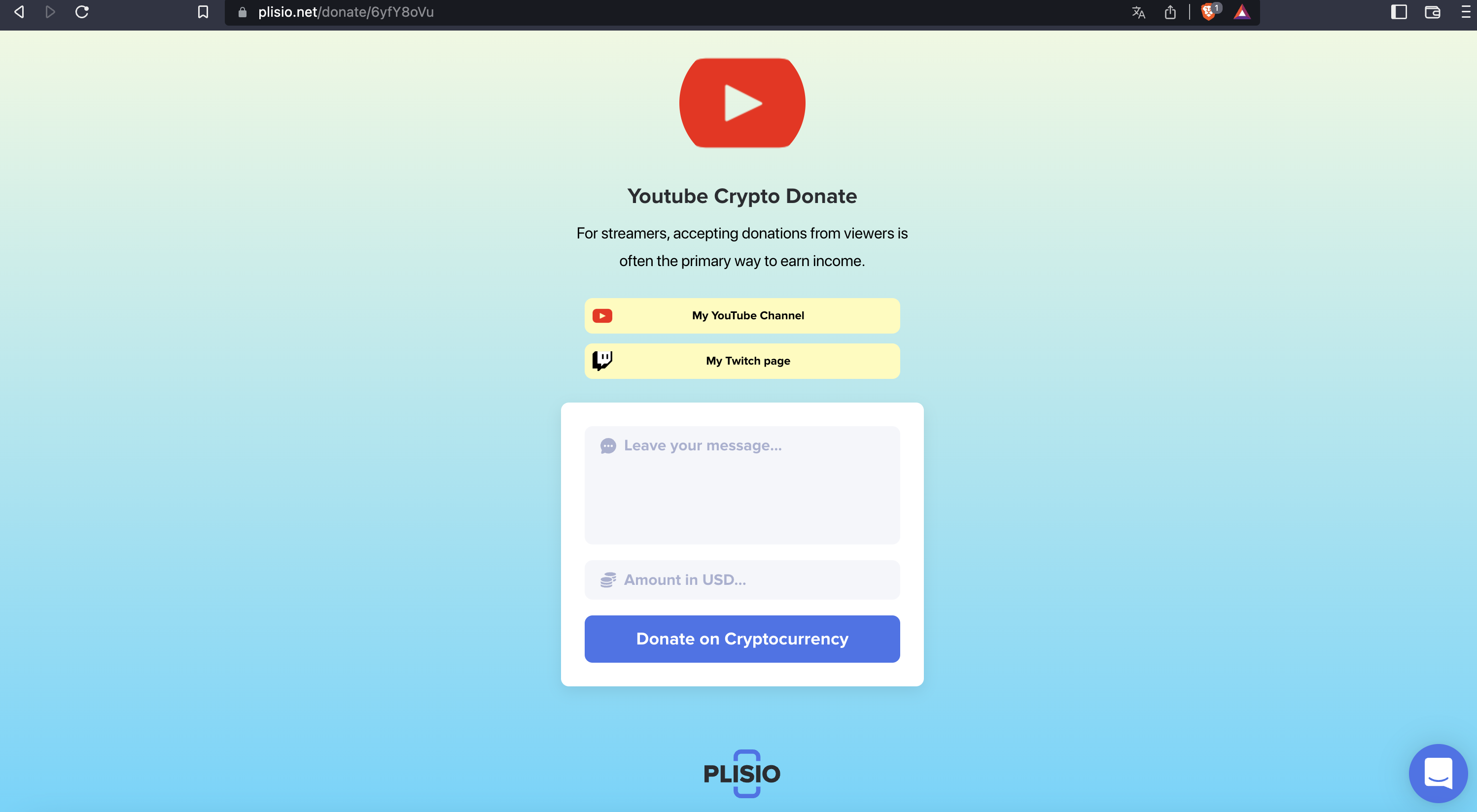 If you have any problems, don't be shy and contact the Plisio Support Team.
Please note that Plisio also offers you:
Create Crypto Invoices in 2 Clicks and Accept Crypto Donations
12 integrations
6 libraries for the most popular programming languages
19 cryptocurrencies and 12 blockchains