4 Reasons Why Ethereum Market Cap Dominance Increases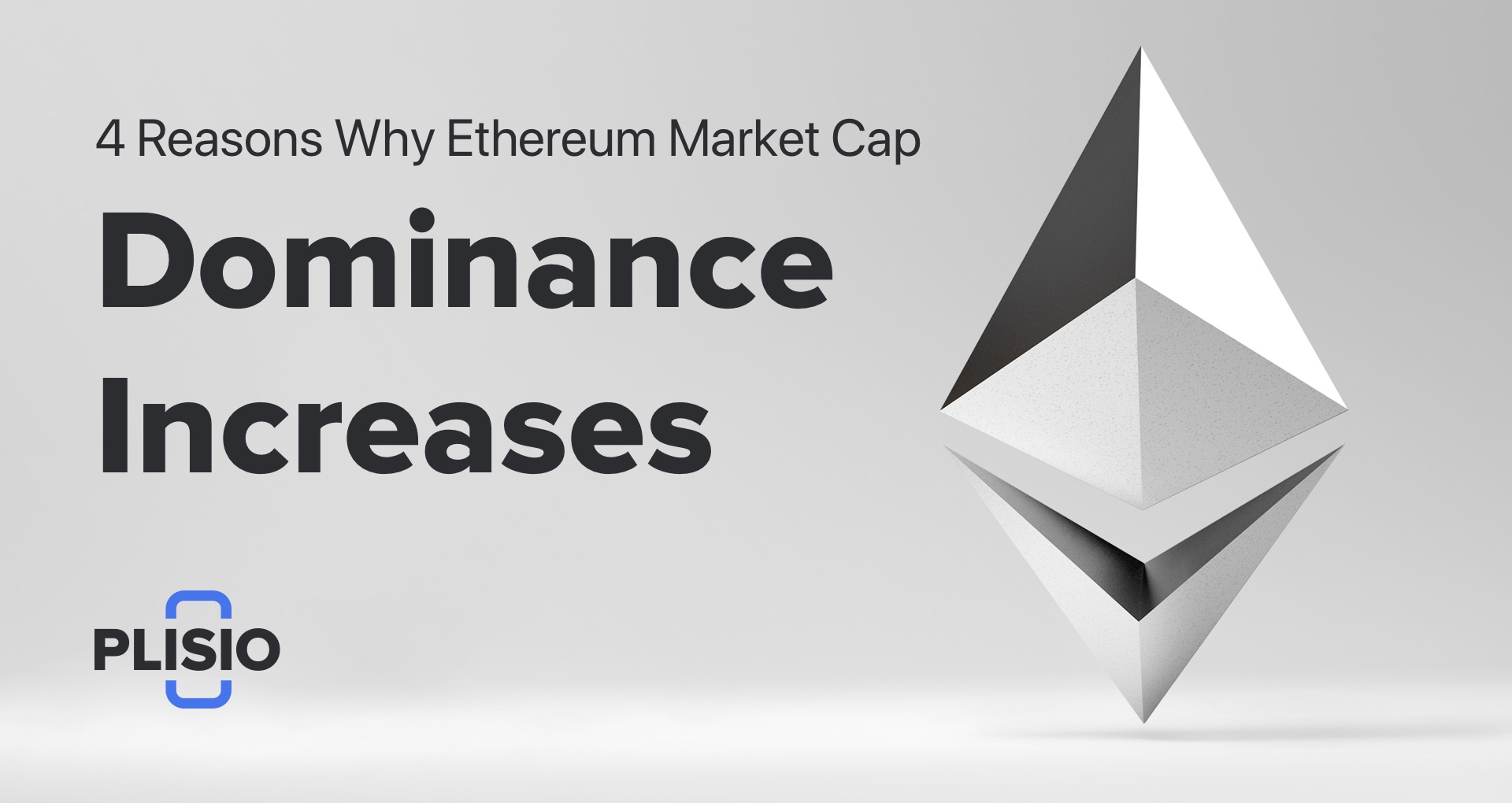 Ethereum has fortified its position as the most dominant cryptocurrency following Bitcoin and has emerged as a leader in the world of decentralized finance (DeFi). The reasons behind Ethereum's remarkable strength lie in its innovative features and growing market share.
Examining Ether's dominance in terms of market capitalization reveals a steady rise from an average of 18% in July 2021 to the current 20%. When excluding Bitcoin from the analysis, Ether currently holds a 40.6% market share, surpassing its closest competitor, BNB, which stands at 7.2%.
An analysis of the total value locked (TVL) in smart contracts further showcases Ethereum's dominance. With $24.6 billion in TVL, Ethereum is the clear leader, followed by Tron with $5.4 billion and BNB Chain with $3.3 billion.
Although there was a temporary decline in Ethereum's TVL market share from 70.5% in June 2021 to 49.5% in May 2022, this was largely due to the emergence of Terra and Avalanche, which gained a combined 20% market share. However, following the collapse of the Terra ecosystem and subsequent halt in network activity, Ethereum swiftly regained a 58% market share.
Ethereum blockchain does not only have ETH, but plenty of ERC-20 coins worth investing in. The easiest way for your e-commerce to get started is to accept payments in crypto and accumulate your revenue. The Plisio platform has all the cryptocurrency payment integrations you might need, zero code knowledge required. Plisio has all the possible ecommerce plugins, a wide range of ERC-20 tokens like SHIB, USDT, TRX or any other to choose from and responsive support team, all of that with the lowest fees on the market.
Let's find out what 4 key factors secure the Ethereum market cap increase:
Decentralization 
Decentralization is a crucial aspect, and Ethereum has emerged as a standout among its rival coins. The blockchain infrastructure of Ethereum offers unique capabilities that enable developers to create decentralized applications and execute smart contracts. This infrastructure enables developers to create DApps and execute smart contracts, making Ethereum a preferred choice for many. With a market capitalization exceeding $231.24 billion, Ethereum is rapidly closing in on Bitcoin, which boasts a market cap of over $561.55 billion.
Bitcoin's dominance in the crypto market has been diminishing in recent months, dropping from over 70% to around 50% by April 2023. In contrast, Ethereum's influence has been steadily growing, with its share of the crypto market surpassing 20%.
Bitcoin's dominance in the cryptocurrency market has been gradually diminishing in recent months, dropping from over 70% to approximately 50% by April 2023. In contrast, Ethereum's dominance has been on the rise, with its share of the crypto market surpassing 20%.
Ethereum's superior blockchain technology has positioned it as the go-to platform for DeFi applications, leading many projects to choose Ethereum over Bitcoin for their launches. This surge in demand for Ethereum has contributed to the increase in its price and market capitalization.
Furthermore, the Ethereum ecosystem boasts the highest number of active developers, exceeding 1,870. This figure surpasses the combined number of active developers on the next three competitors—Polkadot (752), Cosmos (511), and Solana (383).
Therefore, it is evident that Ethereum exhibits significantly less centralization in terms of development and validation when compared to Tron, BNB Chain, and Solana.
Scalability and Security
By the end of 2023, Ethereum's anticipated upgrade will enhance its transaction processing capacity, allowing for more transactions per second and reduced fees. This improvement will make Ethereum even more appealing to users and investors.
The rise in Ethereum's popularity and its dominance in the crypto market clearly indicate its potential for becoming the top cryptocurrency. With its advanced blockchain technology and expanding user base, Ethereum is well-positioned to outperform Bitcoin in the coming years. Nonetheless, it's crucial for investors to exercise caution when dealing with cryptocurrencies, as the market remains highly volatile and unpredictable.
Derivatives Are Essential
Derivatives markets hold great importance for institutional investors, and Ether's future contracts play a significant role in institutional trading practices such as hedging and leveraged trading. In February 2021, Ether's cash-settled futures were added to the Chicago Mercantile Exchange, making it the only cryptocurrency, aside from Bitcoin, to be listed on the world's largest derivatives exchange.
In futures markets, there is a balance between long and short positions at all times. However, having a higher number of active contracts, known as open interest, enables the participation of institutional investors who require a minimum market size. Currently, Ether futures have aggregated open interest of $5.4 billion, while competitors like BNB hold $380 million and Solana only have $178 million.
Ethereum is the NFT market leader 
Nonfungible tokens (NFTs) serve as a prime example of how cheaper and faster transactions don't always result in increased adoption. NFT projects have the freedom to switch between different blockchains, whether for listing their creations or migrating existing collections. In the early part of 2023, notable projects like y00ts and DeGods made the move to Polygon.
Despite Ethereum often experiencing gas fees that surpass $10, it continues to maintain its position as the leader in terms of the number of buyers and total NFT sales. According to CryptoSlam, Ethereum's network recorded $380 million in sales over the past 30 days, significantly surpassing the combined sales of Solana, Polygon, and BNB Chain, which amounted to $93 million.
How to accept Ethereum for your business
To get started with Ethereum or ERC-20 tokens and start accepting it for your small or medium-sized business, you can check out the Plisio cryptocurrency payment gateway. When registered on the platform, you get a free wallet for storing your crypto and the opportunity to integrate the Plisio API to your online store to start accept crypto payments in any of the chosen token standards, all for a modest fee of 0.5%. Plisio has a wide range of cryptocurrencies to work with, as well as a set of useful tools for business growing. Give it a try!
Please note that Plisio also offers you:
Create Crypto Invoices in 2 Clicks and Accept Crypto Donations
12 integrations
6 libraries for the most popular programming languages
19 cryptocurrencies and 12 blockchains