USDT TRC20 vs ERC20: Everything You Need to Know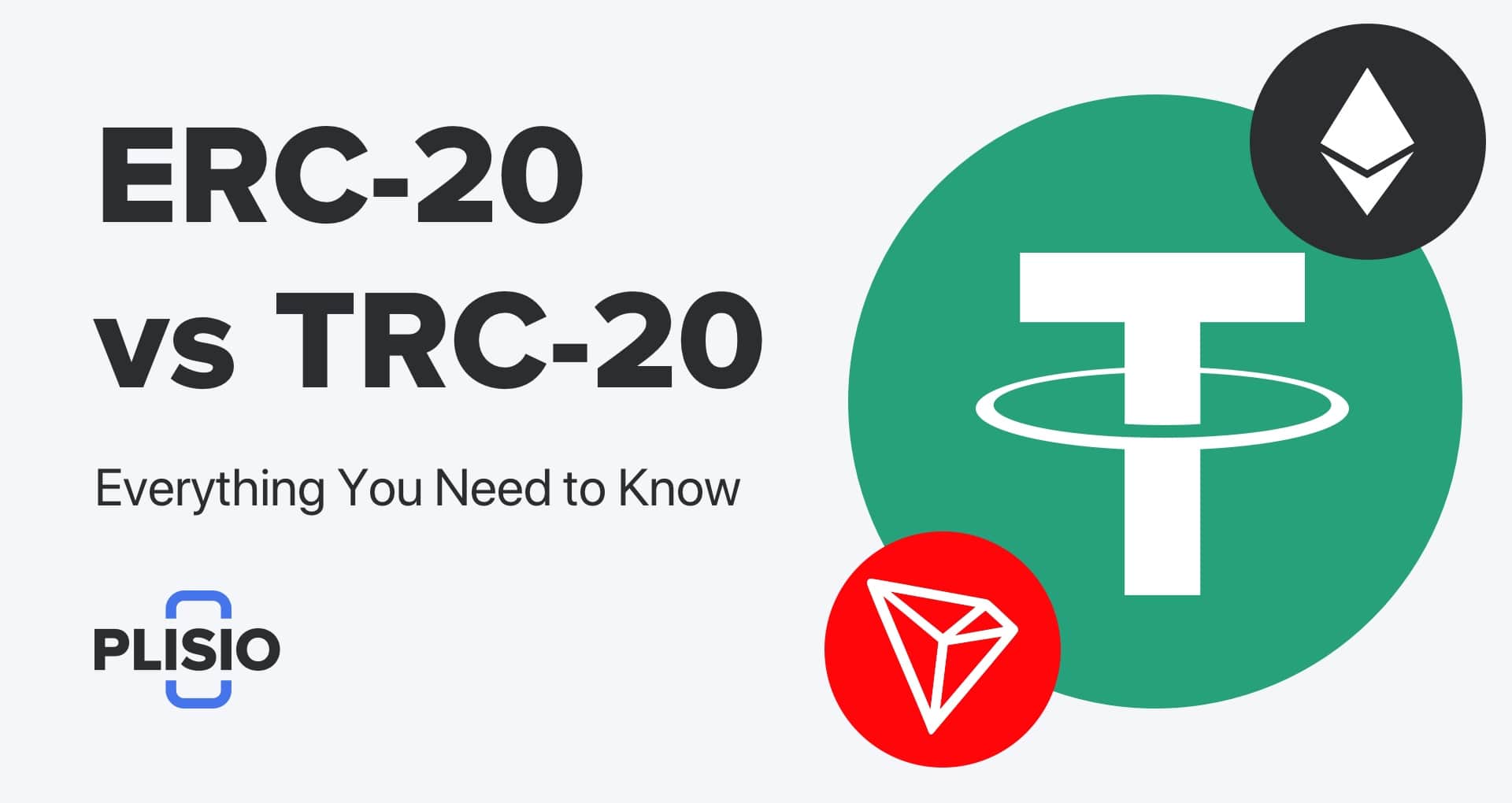 In recent years, numerous investors have entered the world of cryptocurrency and managed to earn good money afterwards. Now, in 2023, Cryptocurrency is an indispensable digital asset operating on blockchain technology, a digital ledger designed to securely store any virtual assets.
In most cases, cryptocurrencies are classified into two categories: crypto coins and tokens. Crypto coins are typically regarded as the native currency of a particular blockchain, with Ether serving as an example for the Ethereum blockchain, or Bitcoin as an example of the Bitcoin blockchain Meanwhile, crypto tokens are created using the existing token standards of a blockchain.
What is Tether?
Tether or USDT,  is a stablecoin cryptocurrency that operates both on the Bitcoin and Ethereum blockchains. What makes stablecoins unique is their ability to maintain a consistent value of the asset they're pegged with, like Tether price is equal to USD which is $1.00. 
Originally known as "Realcoin," Tether was founded in July 2014 by Craig Sellars, Brock Pierce, and Reeve Collins. Many crypto investors prefer Tether because it offers a more stable investment option in the volatile crypto market, avoiding price swings while still retaining value.
Tether was created to address two significant cryptocurrency issues: high volatility and the fiat to crypto conversion difficulty. As a result, Tether has become one of the most stable investment options within the crypto market.
What is a token standard? 
A crypto or digital token standard refers to a set of token governing rules based on a particular standard. In simpler terms, a token standard is a mechanism for creating, issuing, and deploying new tokens on a specific blockchain.
ERC20 and TRC20 are both token standards. In essence, a token standard consists of mandatory guidelines established by an ecosystem that all participants must follow when creating a new coin. These guidelines establish fundamental principles, such as how tokens can interact with the network they are issued on and what the launching process should look like.
For instance, developing a token using the ERC20 token standard on the Ethereum blockchain enables developers to easily design and establish fresh tokens. Every ERC20 token shares common properties that are regulated by the same guidelines.
Tron's equivalent system is also popular, although not as prevalent as Ethereum; TRX and Tether (USDT-TRC20) are among its most prominent representatives.
Accepting Tether (USDT) as a payment option for your products or services is a wise decision that can help you avoid the volatility of Bitcoin and other cryptocurrencies. Tether is a stablecoin that is pegged to the US dollar, making it a reliable payment method for businesses of all sizes.
To start accepting Tether payments, you can integrate the Plisio cryptocurrency payment gateway into your website or online store. Plisio is a user-friendly payment solution that enables merchants to accept multiple cryptocurrencies, including Tether, with ease. With Plisio, you don't need to have any specific coding knowledge to integrate the payment gateway into your website or online store.
What is Tether ERC20?
Tether ERC-20 is a version of Tether (USDT) that operates on the Ethereum blockchain and adheres to the ERC-20 standard. Unlike other stablecoins, which are typically issued on the Bitcoin blockchain, Tether ERC-20 was developed on Ethereum, which means it is compatible with other tokens created on that platform. This has made Tether ERC-20 a popular choice among investors who prefer to keep their assets within the Ethereum ecosystem. The acronym ERC stands for Ethereum request for comments, while 20 is the proposal identifier. It is the most widely used standard for creating crypto tokens.
Creating tokens using the ERC20 standard offers several advantages:
Easy creation and deployment of tokens
Fast transaction speeds
Enhanced security
High liquidity in the crypto market
Global accessibility for creating ERC20 tokens
Multiple uses like crowdfunding, staking, trading, and purchases.
According to statistics, there are currently 450,000 ERC20 token smart contracts in the crypto ecosystem. Among the popular ERC20 tokens are Tether, DAI, UNISWAP, CHAINLINK, Shiba INU, and Wrapped Bitcoin.
What is Tether TRC20
TRC-20 refers to Tether's USDT stablecoin that is issued on the TRON blockchain network. As a technical standard token, TRC-20 functions on the TRON blockchain using TRON's address, which means that all transactions carried out with the TRC-20 occur on the TRON network.
The TRC20 token standard is a popular token standard used for creating crypto tokens on the Tron blockchain. It includes all the necessary guidelines and regulations for creating TRC20 tokens. Essentially, TRC20 tokens share the same features as ERC20 tokens, making them compatible with ERC20 tokens. Furthermore, TRC20 tokens facilitate highly secure transactions.
The creation of TRC20 tokens is aided by a Tron virtual machine (TVM). TRC20 tokens possess high energy levels and bandwidth, making them a preferred choice for crypto token creation by startups and entrepreneurs.
Developing TRC20 tokens comes with several benefits:
Infinite transactions possible
Cost-effective creation
Easy token swapping
High scalability compared to other blockchains
Peer-to-peer transactions
High accuracy rate
Good traceability
The crypto ecosystem has numerous TRC20 tokens in circulation. Here are some of the popular ones: WINK, NOLE, TERC, SEED, LVH, IGG, BTT, and NoleWater.
Key differences between ERC20 and TRC20
Let's take a look at the differences between ERC-20 and TRC-20 tokens based on some key factors.
Network: ERC-20 tokens are built on the Ethereum (ETH) network, while TRC-20 tokens are built on the Tron network.
Address Style: One of the main differences between these two token types is their address style. ERC-20 tokens use Ethereum addresses that start with "0x," such as 0xbd9e..., while TRC-20 tokens use Tron addresses that usually begin with "T," such as T7zP19...
Transfer Speed: TRC-20 tokens generally have faster transfer speeds than ERC-20 tokens because the Tron network has a higher transaction per second (TPS) rate than Ethereum. 
Fees & Cost: TRC-20 tokens usually have lower transaction fees than ERC-20 tokens because Tron's blockchain uses a different consensus mechanism than Ethereum, which can make transactions cheaper.
ERC-20 tokens cost around 30 USDT, while TRC-20 tokens cost around 2 USDT.
Bottom line
Tether is distributed across multiple blockchains, with Tron and Ethereum being two of the most prominent, employing the TRC-20 and ERC-20 standards, respectively. Both have advantages and disadvantages.
While both Tether ERC-20 and TRC-20 are stablecoins created to retain a value of $1.00, they operate on different blockchains with distinct address styles, transfer speeds, and fees.
Therefore, choose the token standard that is best suited to your business requirements. TRC20 would be the best choice if you want more cost-effective and faster transactions.
How to start with TRC20 or ERC20
If you own a small or medium sized business, accepting Tether, especially TRC20 token standard, can significantly cut your business costs and help you invest in cryptocurrency safely. The Plisio cryptocurrency payment gateway is another great cost-effective for a business owner as one of the most significant Plisio advantages is low transaction fees. Unlike traditional payment methods like credit cards and bank transfers, the Plisio fees are significantly lower, which is only 0.5%. Moreover, Plisio provides merchants with fast and reliable payment processing, ensuring that you receive your payments promptly.
Another advantage of using Plisio to accept Tether payments is its ease of use. The payment gateway is straightforward to use, with a user-friendly interface that makes it easy to manage your payments and track your transactions. Additionally, Plisio provides merchants with excellent customer support, ensuring that any issues or concerns are addressed in due time. 
Get started with Tether right away!
Please note that Plisio also offers you:
Create Crypto Invoices in 2 Clicks and Accept Crypto Donations
12 integrations
6 libraries for the most popular programming languages
19 cryptocurrencies and 12 blockchains