Everything You Need to Know About BitTorrent and How to Accept It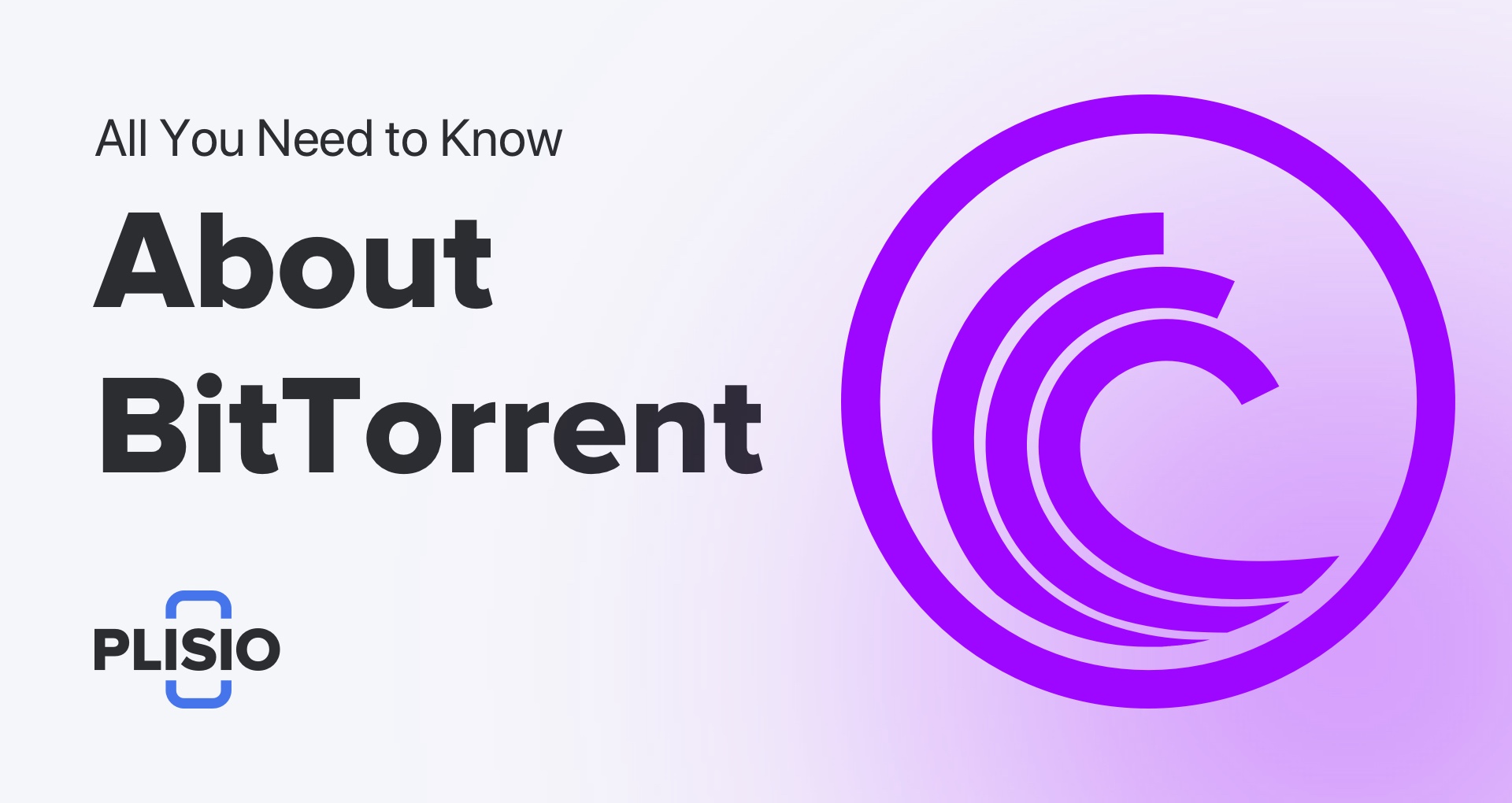 In 2005, BitTorrent, a P2P file-sharing application created by Bram Cohen and David Harrison, constituted approximately 35% of total internet traffic due to its advantages over other internet transfer protocols. However, as internet speeds increased in 2008, its popularity started to gradually decrease. Consequently, BitTorrent faced challenges in monetizing its service and was acquired by the Tron Foundation in 2019. The Tron Foundation, known for developing the Tron blockchain, then launched the BitTorrent token cryptocurrency, called BTT, through an initial coin offering (ICO). The purpose of BTT is to support protocol expansion and reward users within the BitTorrent network.
In this article, we will discuss what is the BitTorrent protocol, BTT cryptocurrency, and how to accept it. 
What is the BitTorrent Token?
BitTorrent Token (BTT) emerged in 2019 when Justin Sun, the founder of the Tron Blockchain, acquired BitTorrent to decentralize its services throughout the blockchain. 
BTT is a TRC-20 utility token specifically designed and integrated into the BitTorrent ecosystem to bring torrenting services to the realm of Web3. It leverages the TRON network's technical standard, TRC-20.
The aim of creating the token was is decentralize and facilitate uncensored content sharing on a peer-to-peer platform, eliminating the need for intermediaries between creators and viewers. The Tron network's P2P architecture and Delegated Proof of Stake (PoS) mechanism provide a sufficient environment for achieving this goal. Moreover, users who use the BitTorrent toke are rewarded for their activities on the network.
BitTorrent Chain (BTTC): What Is It?
BitTorrent also introduced its own blockchain, the BitTorrent Chain (BTTC), in December 2021. BTTC is the world's first heterogeneous protocol with cross-chain interoperability. It employs sidechains to scale smart contracts and utilizes a Proof of Stake (PoS) mechanism for transaction processing and block creation. BTTC enables seamless asset transfers across multiple chains and networks at a fair low cost.
BTTC serves as the native cryptocurrency for the updated BitTorrent protocol, allowing for its expanded operations. It functions as a TRC-10 utility token with a total supply of 990 billion.
As of today, BTTC is utilized for various services, including payment methods for downloading bandwidth, payment method for medium and small-sized businesses, payment for decentralized storage spaces, and rewarding users who provide these services, among others.
If you're looking to transact in BTT token or to accept it as an online payment for your small or medium-sized business, you can give a try to the Plisio cryptocurrency payment gateway. It is a multipurpose platform that can offer you cost effectiveness – the Plisio fee is only 0.5%, which is the lowest on the market, and set of various tools for business growth as mass payouts, bookkeeping tools, customizable Donation page and many other. 
More About the BitTorrent Protocol
Generally, in a peer-to-peer network, files requested are served by the peers rather than the servers, in contrast to the conventional client-server model of content delivery. However, it's never certain that users online will have the same software installed on their computers to offer the content that others want to download. Additionally, some users — known as leechers — may abandon the P2P network once their download is complete, preventing other users from downloading files from their machines.
For each file being distributed, the BitTorrent protocol requires peers to organize themselves into an overlay network called a "torrent" with links among other peers. And BitTorrent users need to create a unique torrent for each file the network distributes. A virtual or logical network that is built on top of an existing physical network is known as an overlay network, such as the Internet.
Key features of the BitTorrent token (BTT)
 
BitTorrent Speed: Previously, seeders were not rewarded for sharing content after a download completed. BitTorrent Speed was introduced to incentivize seeders with BTT tokens. Users can also pay BTT to boost their download speed and store BTT and other cryptocurrencies in a BitTorrent Speed Wallet. This feature is compatible with BitTorrent Web, Torrent Classic (desktop client), and Torrent Web.
DLive Protocol: DLive Protocol is a decentralized live-streaming platform connecting content producers and audiences. Users can earn BTT tokens by watching streams, which can be staked for more tokens. Streamers can receive tips during live broadcasts. No passwords, accounts, or data warehouses are required to start streaming.
BitTorrent File System (BTFS): BTFS is a decentralized file storage system where hosts earn BTT rewards by offering storage, and renters pay BTT to consume the storage. The BTFS Gateway allows anyone to access stored files on the network.
How to accept BiTtorrent 
To accept BitTorrent (BTT) as payment method for your goods or services, you will need a cryptocurrency payment gateway. The Plisio platform offers various cryptocurrencies to choose from, including BTT. Let's find out how to accept BTT through the Plisio cryptocurrency payment gateway:
1. Create an account: Sign up for an account on Plisio. Provide the necessary information and complete the verification process, if required.
2. Set up the payment gateway: Follow the instructions provided by the Plisio payment gateway to integrate it into your website or e-commerce platform. The API integration is quite simple and doesn't require excessive coding knowledge. 
3. Choose BTT as a payment option: Within the Plisio gateway settings enable BitTorrent (BTT) as one of the accepted cryptocurrencies for payment. 
4. Display payment options: Update your website or e-commerce platform to display BTT as a payment option during the checkout process. This could involve adding payment buttons or widgets that you can find on Plisio. 
5. Test transactions: Conduct test transactions to ensure that the payment gateway is working correctly. Make small purchases using BTT to verify that the payments are being processed and recorded accurately.
6. Secure your funds: You can use the Plisio free cryptocurrency wallet to manage and store your funds safely. 
Please note that Plisio also offers you:
Create Crypto Invoices in 2 Clicks and Accept Crypto Donations
12 integrations
6 libraries for the most popular programming languages
19 cryptocurrencies and 12 blockchains